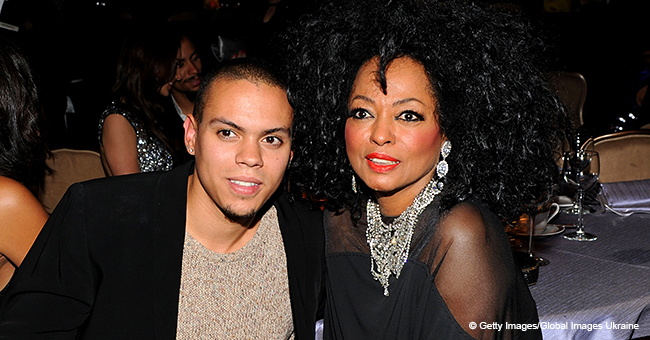 Diana Ross' Son Evan Ross Shows Support for Michael Jackson after 'Leaving Neverland' Documentary

Evan Ross tells Michael Jackson's hater, "You believe in the lies you hear...U never even met him" as he shares an old clip of the legendary singer in the midst of a public outcry condemning him.
Days before his mother made a public plea to "stop" bashing Michael Jackson "in the name of love," Evan Ross expressed support for the late singer by sharing a clip of him and defending him from haters.
EVAN REVISITS MICHAEL'S PAST
Evan ignited his Instagram a few days ago with an old video of Michael from his 1998 film "Moonwalker." He praised the music icon in his caption by writing "So good. Had to post this again. Love you." But some of his fans weren't happy about it.
A DOCUMENTARY BESMIRCH'S MICHAEL'S LEGACY
It's no secret Michael's popularity waned as a result of the recent release of the documentary "Leaving Neverland." In the film, two of Jackson's former Neverland guests came out and accused the star of molesting them when they were kids. The accusers, Wade Robson and James Safechuck said they were groomed by Jackson and treated like his children. The sexual abuse became their secret when Jackson warned them that if people found out they'd go to jail.
Many of Michael's fans turned their backs on him after the film's release. Even radio stations stopped playing his music. But Evan, who's his godson remains steadfast in supporting him.
EVAN CLAPS BACK AT HATERS
He came to Michael's defense when fans questioned his post and accused him of supporting a child predator. One fan threatened to unfollow him to which he replied, "Please do."
Another asked, "Just answer me this? Why did he sleep with these kids? Or was this a lie to? I loved MJ and I just can't believe he would do this. He was loved and had no reason to hurt anybody. Saddens me to hear all this. I'm torn because after watching the Oprah special it got to me."
Evan responded by saying, "Don't believe things just cus there on tv"
Still, a third commenter challenged Evan by asking if he would leave his own child with Michael and added, "Glad he's dead to be honest. Can't hurt anyone else from the grave…way way too much evidence." The 30-year-old clapped back.
"You believe in the lies you hear…good luck with that! U never even met him."
HIS MOTHER COMES TO MICHAEL'S DEFENSE
But Evan isn't the only one in the family who came out to defend Michael. His mother, Diana Ross asked haters to "stop in the name of love" in a tweet a couple of days ago.
"This is what's on my heart this morning," she began. "I believe and trust that Michael Jackson was and is A magnificent incredible force to me and to many others. STOP IN THE NAME OF LOVE."
WHY MOTHER AND SON ARE LOYAL TO MICHAEL
According to Evan, his mother "was like a mum" to Michael, speaking during a sit down on the podcast "The Dan Wooton Interview" last year. As his godson, Michael was his mentor when it came to his dream of becoming a singer. He would sing songs to Michael on the phone and the King of Pop would coach him.
Even after Michael's death, Evan remained close to the singer's children, especially Paris who allows him to feel Michael's presence still.
"I feel like he's still here so it's really special you know. But he was amazing, he always looked out."
The tables have turned because this time, Evan is looking out for Michael.
Please fill in your e-mail so we can share with you our top stories!