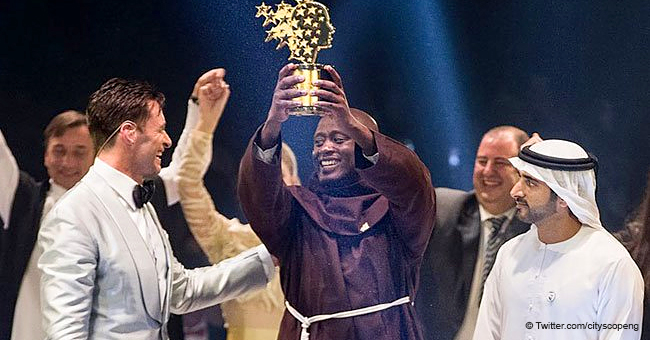 Kenyan Teacher Wins $1M Global Teacher Prize after Donating Most of His Salary to the Poor

A Kenyan teacher won the $1 million dollar Global Teacher Prize after he donated most of his salary to poor communities in his country.
Peter Tabichi, a member of the Franciscan religious order, won the 2019 Global Teacher Prize after donating more than 80% of his salary to the poor. Teaching in a community with crowded classes and a few textbooks, he wanted his students to see that "science is the way to go" to advance their futures.
Because of this goal he had set for his students, he donated most of his salary to ensure they got the education they needed, which in turn got him a whopping $1 million dollar cash grant from the Global Teacher Prize.
The award, which was announced through a ceremony in Dubai, recognized Brother Peter's "exceptional" commitment to his pupils in a remote area in Kenya's Rift Valley.
80% of his payroll goes to the Keriko Mixed Day Secondary School in Pwani Village, Nakuru, where students are so impoverished that they cannot afford to purchase uniforms or books to go to school.
"It's not all about money."
Tabichi, who loves his students dearly, said that to him, "it's not always about money." The 36-year-old teacher would rather help his students excel in school. hoping to unleash the potential of African children, even though they come from disadvantaged families.
On the topic of his award, he made sure to use his platform to advance his cause of getting people to realize the capability of Africa's youth.
"As a teacher working on the front line I have seen the promise of its young people - their curiosity, talent, their intelligence, their belief. Africa's young people will no longer be held back by low expectations. Africa will produce scientists, engineers, entrepreneurs whose names will be one day famous in every corner of the world. And girls will be a huge part of this story."
The State of Kenya's Children
According to the Franciscan friar, his school lacks so many resources, including books, tables and chairs, and teachers.
Their classes are meant to teach 35 to 40 pupils each, but they end up teaching groups of 70 to 80, many of them walking approximately 6 kilometers on bad roads just to learn.
In their area, there is also a lack of stable internet connection, which requires him to travel to a far internet cafe just to download the resources he needs to teach his science lessons.
While their situation is definitely unfavorable, he is determined to allow his children to learn about science, which he believes will allow them to get out of poverty.
His pupils have competed in national and international science competitions successfully, even once winning an award from the Royal Society of Chemistry in the United Kingdom.
The Award-Giving Body's Verdict
Out of 10,000 nominations from 179 countries, the Varkey Foundation chose to award Brother Peter, saying that his work at the school "dramatically improves his pupils' achievement," with a lot of them entering college despite their resources being limited.
Congratulations to Peter and his students!
Please fill in your e-mail so we can share with you our top stories!