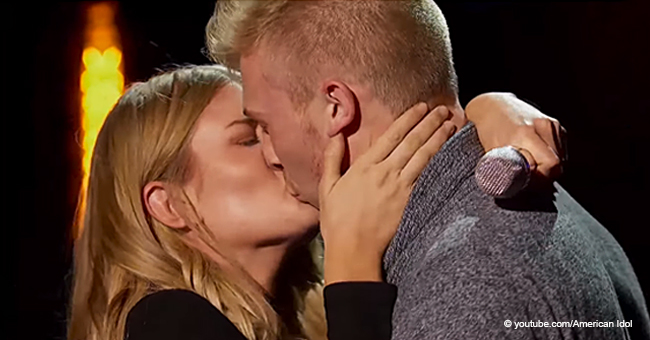 'American Idol' Contestant Receives Proposal on Stage Making Katy Perry Cry
Johanna Jones, an "American Idol" contestant, was surprised with a proposal after her performance. Katy Perry shed tears of joy for the newly engaged couple.
Seconds after her performance of Chris Isaak's "Wicked Game", Johanna Jones's boyfriend went on stage, knelt down, and proposed to the "American Idol" contestant. Her rendition of the song garnered her a standing ovation from the three judges, Lionel Richie, Katy Perry, and Luke Bryan, but the spotlight quickly shifted once her boyfriend walked on stage.
Before popping the big question, he said,
"I couldn't be here because of exams, but I couldn't wait another day. Johanna, you're the love of my life. Will you marry me?"
All this while, Jones thought that her beau could not be present during her performance, due to college exams. In an interview, she described him saying,
"He's the most supportive, loving, awesome guy I've ever met," Jones said. "I don't want to get ahead of myself, but I think he's the one. We don't need to tell him that quite yet – I mean, I don't know if he knows, but I know."
The judges were just as surprised as Jones, but Katy Perry's reaction stood out as tears rolled down her eyes, in disbelief that this was happening, and out of joy for the couple.
Katy Perry, who recently also got engaged to Orlando Bloom, jokingly asked,
"Why won't someone love me like that?"
The judges quickly went on stage to congratulate the couple and wish them well on a life together.
Soon after, Jones publicly announced the good news on her Instagram account. She posted a photo of her and her fiance with the caption,
"Matt and I are pleased to announce that we will be getting MARRIED June 22nd in Las Vegas!!!! Can't believe I'm marrying my best friend, my favorite person."
Jones also received great news to add to her engagement. The soon-to-be bride made it to the Top 40 of "American Idol" allowing her to step up to the next round.
Having love interests in "American Idol" is nothing new. During the season finale last year, Maddie Poppie, grand winner, and Caleb Lee Hutchinson, runner-up, made their romantic relationship official. Also, just this week, Gabby Barrett and Cade Foehner, both part of the top five contestants, got engaged.
Please fill in your e-mail so we can share with you our top stories!