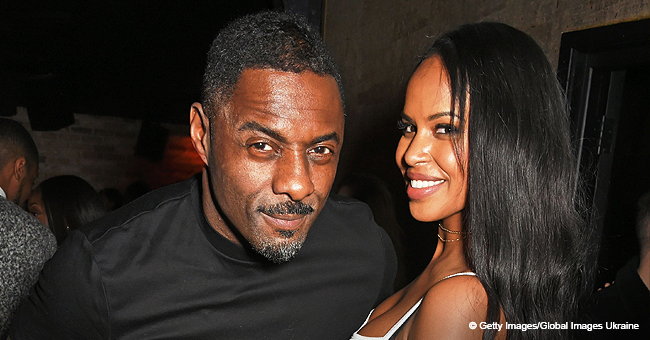 Idris Elba's Fiancée Sabrina Is Stunning in Figure-Hugging White Dress after Her Bachelorette Party
Sabrina Dhowre will become the third Mrs. Elba pretty soon, and she's already showing off how good she looks in white. The former Miss Vancouver posed in the middle of a desert as she celebrated her bachelorette party.
Idris Elba broke a lot of hearts after he proposed to Sabrina Dhowre last February, and although many die-hard fans hoped for the engagement to fail, it seems the wedding day will be taking place anytime now.
Dhowre, 29, recently celebrated her bachelorette party alongside nine of her closest friends at the luxury Amangiri resort, located in the backdrops of the desert in Canyon Point, Utah.
And like every modern bride-to-be, Sabrina made sure to keep fans updated on the affair, sharing pics and videos of the fun-filled weekend and earning even more envy from those who already gave her the stink eye for "stealing" Elba away.
Among the pics she shared, Sabrina left fans stunned with a gorgeous pic in which she donned a body-hugging strapped white dress, which enhanced her curvaceous body, and a pair of Jimmy Choo heels.
Dhowre posed with the majestic desert in the background, giving the camera a serious but sexy look, although she joked about the real reason behind her expression in her caption, which read:
"The face you make when your [sic] trying to suck it in @karenn_nguyen."
Fans were quick to fill the comment section gushing about Sabrina's beauty, and some took the chance to send their good wishes for her upcoming marriage.
"Beautiful @sabrinadhowre Wishing you & Idris more blessings & happiness from Toronto," wrote one user.
Another added, "Stunning view!! The background is also nice." And a third one agreed, "Natural beauty... your fiancée is the lucky one, Queen!"
Sabrina also shared pics with her friends in matching silk pajamas posing in the middle of the desert, riding a horse, and enjoying the morning view while eating some green apples.
On her Instagram stories, she showed off the resort's installations, a dessert table that her friends decorated with a sign that read, "Pop the champagne, she's changing her name," and a cake that read "Future Mrs. Elba."
Idris and Sabrina met in her native Canada, while the actor was filming "Mountain Between Us." He proposed almost a year later in the middle of a screening of his film "Yardie."
The proposal, he said, "was the most nerve-wracking thing for me ever." "But in terms of wanting to make someone feel super special and feel my love, that was pretty romantic for me," he added.
Elba, who was married twice before and has two kids, says he knew Sabrina was the one for many reasons, including their good chemistry. And added:
"She makes me laugh, and we share common goals. She makes me happy. She makes me celebrate my successes, and when I'm not too sure about stuff, she makes me think."
The pair have been planning their wedding for a year now, and Elba only has one request: "I want about 19 deejays. There have to be, c'mon."
Wedding bells can be heard in the distance, and there's no doubt this couple will be tying the knot sooner rather than later.
Please fill in your e-mail so we can share with you our top stories!