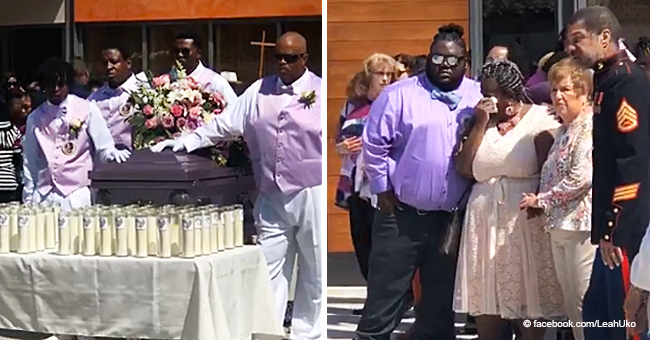 Community Gathers at a Memorial Service to Mourn 9-Year-Old Found Dead in a Duffel Bag

In a solemn interfaith service, Trinity Love Jones was remembered by hundreds who came out to say goodbye to the young girl whose life was tragically taken from her loved ones.
They may not have known her before, but the attendees of the March 25 "Memorial of Light" service for Trinity Love Jones were moved by the untimely death of the nine-year-old in more ways than one.
They had daughters, sons, granddaughters, and grandsons of or around the same age, so they could imagine the pain of having to go through such a loss. Even without young ones, the story is heart-wrenching.
Jones' body was found in a duffel bag on March 5. It had been tossed aside on a hiking trail and left for someone — or no one — to find. The girl's father Antonio attended the funeral along with many others.
The memorial took place at the St. John Vianney Catholic Church in the Hacienda Heights of Los Angeles on Sunday. The location lies just about two miles from where they found Jones.
Antonio chose his daughter's clothing for the day of mourning. Jones wore a blue and white suit and a blue hat. The colors were bright, just like Jones liked them before she passed away.
Her father also helped to carry his daughter's small coffin into the church along with five other pallbearers. Outside, 90 candles marked Jones' nine years.
The church bell tolled nine times to honor the young girl. The service began at noon and saw songs and eulogies given from the likes of a Catholic priest named Father Egren Gomez, Pastor Darnell Hammock of the New Life Community Church of Oakland and a monk from the Hsi Lai Buddhist Temple named Venerable Miao Hsi.
Gomez said of the young girl:
"It is so fitting that we are underneath this bright sun, because what we celebrate today is the light that Trinity has within, the eternal light that has not been extinguished."
Hammock also gave a moving eulogy:
"Why God? Why so soon? Why our baby? Why our niece. Why my student ... I got to be honest, church, I too wrestled with these questions as I prepared today. I'm here to ask myself, 'When do we change the channel of this alarming episode of young black girls dying?' "
Hsi took a different approach, as Buddhists believe that one does not die, but only passes on to another life:
"We are here to celebrate Miss Trinity's rebirth. May she feel love, joy and peace."
Mourners who had never met Jones were just as touched by her death as anyone else. Long before the service, Cynthia Bejar was lighting candles every day for Jones since she learned they found her body on March 5.
Kara Clark, another resident, said that she thought of her granddaughter when she heard of the news. "Enough is enough with all of this stuff that happens in our world — it's awful," she added.
A local named Arlene also has a granddaughter who came to mind when she learned about Jones. The horrific incident compelled her to attend the service. She said she "just had to be here."
So it was with many others who went to honor the poor girl. The community came together, yet it was for the worst reason one could fathom.
Before the incident, Jones was reportedly living in a homeless situation with her mother Taquesta Graham and her boyfriend Emiel Hunt. Both were charged with the murder of the little girl. Hunt is facing 55 years to life while Graham is looking at a maximum of 26 years to life in prison.
Police first arrested Graham on an "unrelated warrant" when they stopped the couple's vehicle in Hudspeth County, Texas. Later, they picked up Hunt in relation to Jones' disappearance.
According to authorities, on March 1 Hunt killed Trinity and dispersed of her body on the hiking trail where it was found five days later. At the time, Jones was wearing a pink shirt that said "Future Princess Hero."
Please fill in your e-mail so we can share with you our top stories!