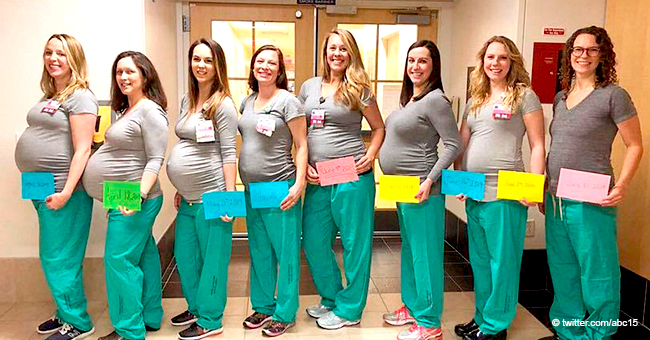 Nine Nurses from One Hospital Wowed to Get Pregnant with Almost Similar Due Date

A hospital's labor and delivery unit seems to have been hit with pregnancy fever as it is expecting a baby boom soon enough. Nine of its nurses expect their babies around the same period.
The nurses took in at around the same period and will now give birth in an equally similar period, between April and July. Maine Medical Center in Portland is in for a special delivery season.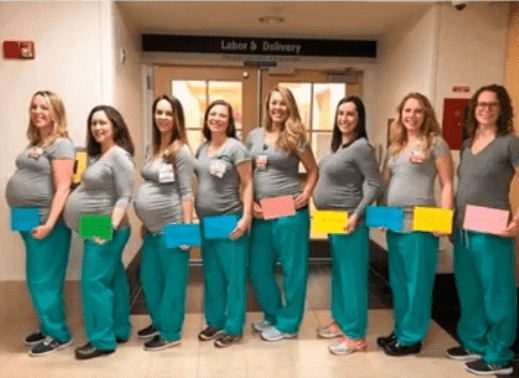 The nine nurses who got pregnant around the same time. | Photo: YouTube/Top Richest.
Nine of the hospital's nurses who work at the labor and delivery unit became pregnant during the same period and will now give birth in the same period too. The hospital took its time to congratulate the nurses when it announced the important but great news on Facebook, with a picture showing eight out of nine of the cheerful expectant nurses and their baby bumps.
The nurses are excited and happy. One of them, Elin Grenier who spoke to CNN said that they were delighted each time one of them announced their pregnancy and that they have been supportive of one another and will continue to be.
Another nurse, Amanda Spear said it was nice to come to work and see fellow workers pregnant as well, as it gives the opportunity to share experiences and do things together.
Some respondents to the post while being surprised and congratulatory to the nurses also expressed concerns over the hospital being short-staffed in the summer. The hospital, however, responded that they have a plan.
A staff of the center, Nicole Goldberg explained that when other patients of the labor ward see the pregnant nurses, it may well serve as a source of reassurance for them knowing they have people going through their phase.
The nurses are looking forward to raising their incoming babies together as echoed by Nurse Holly Shelby. We wish them all a safe and successful delivery. It may seem the nurses are not alone in having babies at the same time.
In a seemingly more exact delivery circumstance, a set of twins became pregnant in the same period and delivered their babies on the same day as well. Jalynne Crawford and Jannelle Leopoldo always shared a dream to have their children on the same day, and now that dream is a reality. It did not come that easy for the sisters as they suffered some pregnancy pain before now.
Jalynne went through the pain of having two miscarriages while Jannelle experienced an ectopic pregnancy, and also suffered from Polycystic Ovarian Syndrome. It was a day of celebration as their family was present to witness the grand moment of their special delivery.
Please fill in your e-mail so we can share with you our top stories!