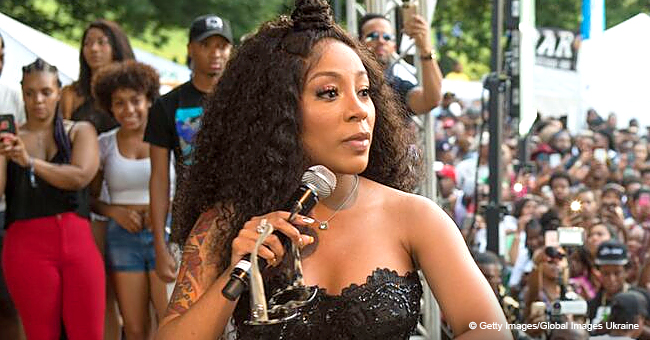 K. Michelle Sparks Rumors She's Got Butt Implants Again after Showing off Her Curves in New Video

K. Michelle sowed seeds of doubt after she shared a clip on her Instagram revealing what appeared to be an enlarged booty. The singer previously had her botched butt implants removed due to a health scare. Fans are concerned she had new ones restored.
Fans are wondering if K. Michelle decided to upsize her butt again after having them downsized last year. A photo the R&B singer shared recently led to that confusion.
DID SHE OR DIDN'T SHE?
K. Michelle had fans guessing recently when she shared a clip to promote her tour. Many noticed her pronounced butt and hips as she wore figure-hugging pants while performing on stage. Her followers on Instagram where she shared the clip wondered if it was old footage taken before she had her illegal implants removed.
"Waitt his look like the old KM," one fan wrote. "Is this recent ‍?"
Others suspected she had new ones implanted and even judged her for bending to an addiction.
"I thought she removed the Booty pads. Addicted to bod transforming after all those tears."
BYE BYE BOOTY
It was only in January last year that K. Michelle wrote a letter to her booty she named Betsy before going under the knife to have it removed. "I will miss you and how my jeans fit," she wrote addressing her implant but blamed it for her health woes. "You also caused me inflammation through out my body. No amount of beauty is worth your health! So everything has to be returned to its natural state!"
IMPLANTS GONE WRONG
K. Michelle was very honest about having her body enhanced in several areas due to her insecurity. In 2012, she had her hips and rear enlarged through hydrogel injections courtesy of the black market. She was also aware that the man who performed the procedure on her was not a real doctor. And while she was happy with the results for about five years, in 2017, she began to complain about pain in her back and legs apart from migraines and fatigue. She later learned that the silicone had spread to her legs causing damage to her tissues.
K. Michelle first asked the help of a physician who suggested sucking out the silicone through liposuction but it only allowed the silicone to spread even further resulting in her being rushed to the hospital. There she underwent blood transfusions and three surgeries to remove her dead tissues. A fourth surgery was scheduled months later for final reconstruction and then she was back to her original form.
Today, K. Michelle is raising questions on whether that whole ordeal was for nothing seeing her body appeared stuffed with implants again. Fans are hoping the footage she shared was a throwback so they can lay their worries to rest. The entertainer has yet to comment on these suspicions.
Please fill in your e-mail so we can share with you our top stories!