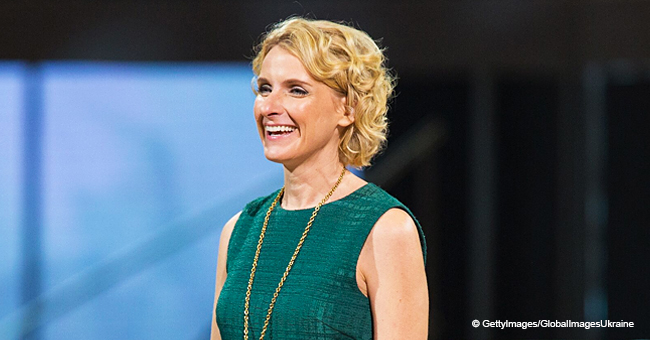 'Eat, Pray, Love' Author Elizabeth Gilbert Finds Love with Her Late Partner's Closest Friend
Elizabeth Gilbert shares her story of love in an Instagram post that warms peoples' hearts. Gilbert revealed her new beau is one of her late partner's closest friends.
Elizabeth Gilbert, author of the New York Times Best Seller "Eat, Pray, Love," posted a photo of her and the new man who holds her heart on her Instagram account.
The post was accompanied by an inspiring message about finding love and joy to her followers who may be trapped in the same situation as she was.
She began the post by introducing her love to her followers,
"Dear Ones: It's a beautiful spring day in my corner of the world, life is everywhere bursting forth with a sense of rebirth and renewal, and this seems like a good moment as any to tell you that I am in love. Please meet my sweetheart, Mr. Simon MacArthur. He's a photographer from the U.K. – a beautiful man who has been a friend of mine for years. (Even more touchingly, Simon was a beloved friend of Rayya's for decades. They lived together in London over 30 years ago, and they adored each other forever like siblings. This, as you can imagine, means the world to me.)"
Gilbert, 54, lost her previous partner, Rayya Elias, 57, to pancreatic and liver cancer last year. After mourning for some time, she found love once again and happily talked about it and why she decided to share their story to the world.
"I will always share anything personal about my life, if it could help someone else feel more normal about their life. SO...if you have lost a loved one to death, and you thought you'd never love again, but you are feeling a pull of attraction toward someone new, and you're not sure if that's OK? Let me normalize it for you. Let me say: It's Ok. Your heart is a giant cathedral. Let it open. Let it love. Do not let your gorgeous loyalty to the deceased stop you from experiencing the marvels and terrors of your short, mortal, precious life. It's OK to live, and to love."
The famous author was able to reach out to individuals who began to doubt love when they found it at a rough time. Gilbert normalized unorthodox love and assured her followers that it is "OK" and that life is too short not to be spent loving and being loved.
Her followers were moved by her post, and showed their support and happiness for their favorite author, through comments on her post.
"Miss elizabeth you have an amazing soul! Be yourself no matter what we're here to support you even the others dont?! We are happy to see you happy to all your decision! Godbless your togetherness! Mmuuuuccchh love here from dubai!"
"I'm soooo happy for you. I love seeing the response of those who needed to hear 'it's okay to be where you are...' So vulnerable and so valuable."
Love is certainly an inevitable and complicated topic, especially for those who are in a difficult situation. Hopefully, Gilbert's post gives light to those who are confused about whether they should choose love, or otherwise.
Ironically, the author of a book on love has experienced different and devastating love stories in her life. In 2016, Gilbert revealed her separation from her husband, Jose Nunes, after ten years of marriage.
Shortly after, she fell in love with her previous partner, Elias, an author, musician, and her best friend. Sadly, their love story came to an end after his passing.
Gilbert has put her learnings of love into words through her literature. Her book "Eat, Pray, Love" became a New York Times Best Seller for 199 weeks, and was also made into a movie.
Apart from her book, she has had experiences in journalism with her works published by Esquire. Her first book, "Pilgrims," was published in 1997, and also received a Pushcart Prize.
Many couples have proved that love knows no age, no race, and no circumstance. Similarly, actress and TV presenter, Ricki Lake found love two years after her husband died. The 50-year-old found love unexpectedly and welcomed it with open arms.
Please fill in your e-mail so we can share with you our top stories!