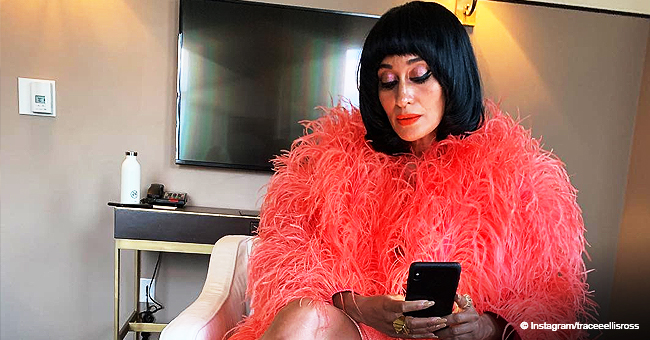 Tracee Ellis Ross Channels Iconic Mom Diana in Celebration of Her 75th Birthday Party
For Tracee Ellis Ross, there is no better way to commemorate the 75 years her mother has lived in this Earth but to channel her in her celebratory outfit.
Now that the iconic Diana Ross is 75 years old, her family made sure to party it up in the only way they knew how - through a glamorous celebration.
For the occasion, her daughter Tracee Ellis Ross opted for a stunning peach colored glittered dress, which featured a drapey finish and an x-back style. She paired her dress with a pair of sparkling orange and silver heels and a pomelo pink furry jacket.
Her hairstyle also featured her mom's signature black hair, minus the curls. She instead opted for a sleek cut with bangs. According to Tracee, she comes by it as she gets it from her mama.
"I COME BY IT HONESTLY ~ I get it from my mama"
DIANA ROSS' 75th BIRTHDAY CELEBRATION
Being one of the biggest names in the music industry in the span of her 60-year career, Diana Ross celebrated her 75th year on Earth with a new documentary.
The film is entitled "Diana Ross: Her Life, Love, and Legacy," which runs for two hours. While the title speaks about her legacy in general, the documentary focuses on her 1983 free concert in Central Park, New York City, with never-before-seen footage of the concert and interviews with her children.
The concert, which continued even with the heavy thunderstorm that engulfed the area, was seen by 450,000 people who gathered to see Ross. It was in that moment that she became an ultimate superstar, as no one or nothing was about to stop her from doing her thing.
Now that she is 75 years old, she continues to be an influential woman in the music industry, and her continuous fame is well deserved.
Happy birthday, Diana Ross!
Please fill in your e-mail so we can share with you our top stories!