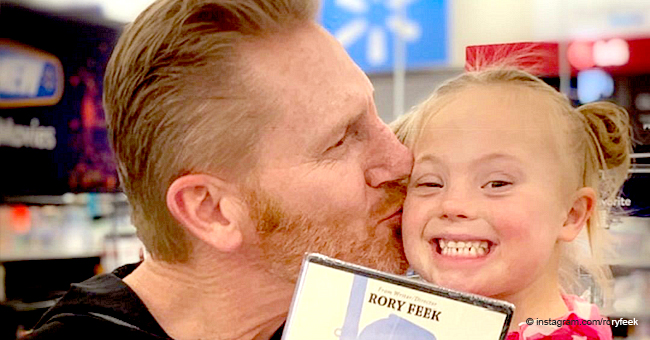 Rory Feek's Little Daughter Indy Looks like a Fairytale Princess in the Latest Photo

Indy Feek dressed like a different princess every day for school this week and we think she would make a great princess for real.
The adorable five-year-old decided that for the week of March 25 to March 29, she would be wearing a princess dress as she joined her classmates for school at Hardison Mill.
The Tennesee school was built by her father Rory Feek, a famous country singer and songwriter. His daughter and other local children attend the single room schoolhouse.
Indy loves going to her new school which opened in September 2018. What little girl doesn't also love dressing like a princess? She's having an especially great week.
On Monday, she dressed up as Princess Rapunzel, complete with a long blonde braid. It was the second time within a month she chose Rapunzel since she also wore the purple dress for her birthday celebration last month.
Tuesday saw the adorable little one dress up as Princess Aurora from "Sleeping Beauty." Indy wore a pink ball gown dress over a long sleeve white shirt. Her hair was adorned with a pink bow and pulled back in a ponytail.
Indy's toothy smile fully conveyed her pure joy at being able to wear the costume dresses. Father Rory is worried about one thing though, as shown in the caption of the adorable photo.
He wrote:
"Indy decided to be a different Disney princess every day this week at school. Yesterday she was Rapunzel, today she said she's Sleeping Beauty. Hoping she doesn't run out of dresses before Friday..."
The 53-year-old built Hardison Mill School on his farm which has the same name. Before the school went up, Indy was eager to attend school and play with her peers.
When the first day of school finally came around, Indy ran with excitement as she headed off to the farmhouse where the school is. Her father shared a clip of her in a cowboy hat as she went.
Rory is famous for writing songs like "The Truth about Men" and "Some Beach." He's written for other country singers as well as himself. He's been married twice before, with his second wife Joey passing away from cancer in 2016.
Rory was scarred by his wife's death but was happy to care for his daughter Indy whom he had with Joey. He also has two daughters, Heidi and Hopie from his previous marriage to Tamara Gilmer.
Please fill in your e-mail so we can share with you our top stories!