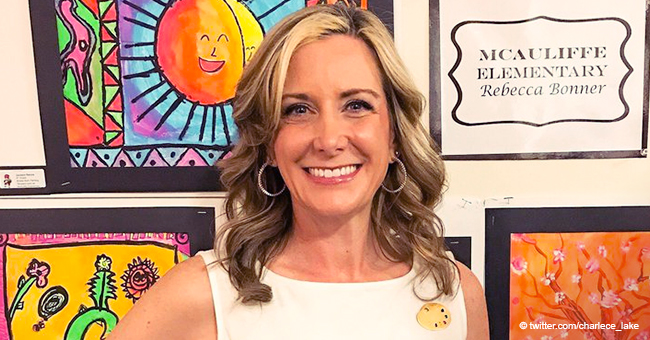 Elementary School Teacher Became a Sensation after Printing Her Pupils' Art Works onto Her Dress

Teachers are one of the bedrocks of a functional society, and often do not get the recognition they deserve. A Texas teacher has broken through this to become an internet sensation.
When Rebecca Bonner bought a cream cotton dress from Amazon, for her elementary school class to paint on, she had no idea it would make her famous.
The art teacher at Mcauliffe Elementary School, Highland Village, Texas, after buying the dress left it for two weeks for her students to work their art magic, in preparation of their art show.
The students seeing a creative opportunity got to work, drawing things like sunflowers, watermelon fireworks, and paintbrush. There was no limit to their genius as they turned the skirt of the dress into a rainbow of shapes and patterns.
In an attempt to show off the dress, Bonner's daughter, Charlece Lake, shared a picture of her mother wearing it on Twitter, writing that her mother is the "Cutest art teacher ever."
The post went viral garnering over a hundred thousand likes and twelve thousand retweets. The 46-year-old also got commended for her initiative and inspiring teaching skills.
A comment on Twitter read :
"When will we pay teachers what they deserve? Love this"
Others described the art educator as "A national treasure," "A teacher that changes a child's life," "Amazing," and "Wonderful."
Speaking on "Good Morning America," the Texan explained that it was her way of getting about 580 children between the ages of three and eleven interested in art.
The happy teacher said she got the inspiration from a closed Facebook group of her peers and wants elementary art to get more attention. Bonner might be celebrating, but it is not every teacher that gets rewarded for their efforts.
Last year, Diane Tirado, lost her job at a high school in Port St. Lucie, Florida, for choosing not to encourage mediocrity among her students. The 52-year-old after working at the school for a few months discovered she was expected to award a 50% score to undeserving students.
The rule didn't sit well with her, and she rebelled, leading to her termination. Before leaving the school, Tirado left a note on the board for her class, wishing them well and informing them she would not award marks for work not done.
The note went viral on Facebook, getting over 2,000 shares. Their stories may be different, but these two teachers did right by their students.
Please fill in your e-mail so we can share with you our top stories!