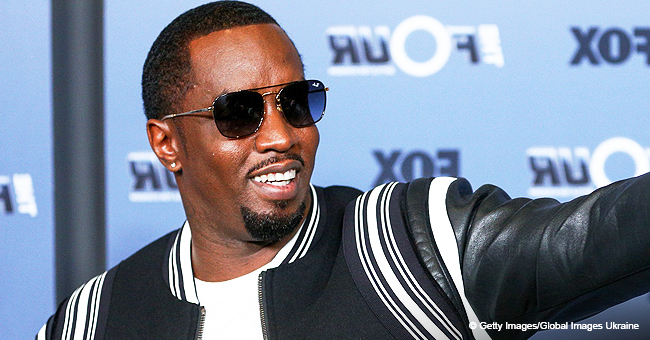 Diddy Shares Video of Daughters Acting as Back up Dancers for Diana Ross at Her 75th Birthday Party
P. Diddy's heart stopped for a minute as he saw his daughters dancing on stage with no less than Diana Ross. The rapper in a clip he tweeted revealed it was "one of the best days of my life!!!"
Stars descended at the Warwick Club on Tuesday night to celebrate Diana Ross' 75th birthday. Among her A-list guests were P. Diddy and his three daughters Chance and twins D'Lila Star and Jessie James.
The party continued later that night at The Hollywood Palladium where Diana entertained her guests with a special birthday concert. The star of the night stunned in an orange gown as she took the stage to showcase her timeless talent and stood out in a sea of well-wishers.
At one point during her performance of "Stop In The Name of Love," Diddy's girls joined her on stage and his priceless reaction was captured on video. He placed his hand on his chest as if trying to contain how thrilled he was as his three daughters in matching red dresses shook their booties to the catchy tune.
Diddy imitated Diana's movements as he raised his palms when she sang "Stop! In the name of love." He later joined the foursome on stage when Diana signaled him to come up.
"One of the best days of my life!!!" he wrote to caption the clip." My three Queens sharing the stage with the legendary and the beautiful @DianaRoss!!!!!! Happy Birthday Queen[heart emojis]"
Since the death of Kim Porter, the mother of his twin girls, Diddy has been focused on fatherhood. His Instagram is a testament to his devotion as he often shares photos of the twelve-year-olds along with their half-sister Chance whose mother is Jessica Champman.
In October, he watched the concert of Beyonce and Jay-Z with his girls and even posted photos of the trio with the couple. Like Diddy, the Carters also have a set of twins, Rumi and Sir. Diddy advised them during a Billboard interview in 2017 that having twins means "two times the love."
Diddy likewise is giving two times worth of attention to his twins as their single father. Kim died unexpectedly in November due to complications from pneumonia leaving the rapper devastated. They were together for 13 years and remained good friends after. He considered her his soulmate.
Please fill in your e-mail so we can share with you our top stories!