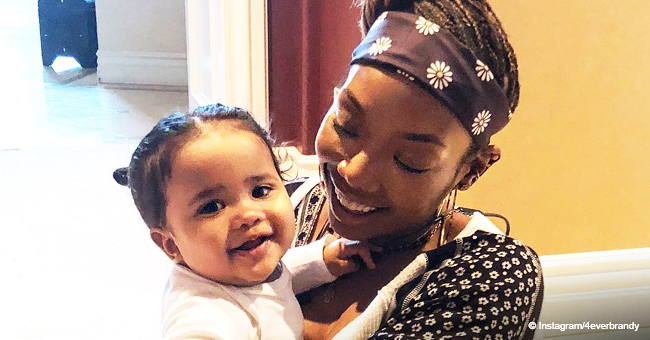 Brandy Proves She's the Sweetest Aunt as She Cradles Baby Melody in Loving Photo
Brandy expresses just how much she loves her little niece in yet another adorable photo of both of them sharing their sweet smiles.
Baby Melody Norwood looks happily content being with her aunt Brandy, as they share an embrace while smiling for a photo.
Brandy shared the adorable photo on Instagram, sharing on her caption just how much she loves the little girl.
"Me and my Melzies. @melodylovenorwood I just love you so much. #teeteebandy"
The reality TV star also hinted the pet name that little Melody gave her, which is "teetee bandy."
How "Teetee Bandy" Came To Be
With Princess Love being half-Filipino, she has been teaching her little girl some Filipino language. While she calls her grandmother "lola," which is its Filipino translation, she might also be calling her aunts "tita," which is the Filipino translation for that word as well.
If this isn't the case, "teetee" could also be slang for "auntie." Regardless of how Melody calls her, one thing remains the same: their closeness to one another.
BRANDY'S CHRISTMAS GIFT
Right in time for Christmas, Brandy took to Instagram to share an adorable clip of her surprise to her little princess. She decided to surprise baby Melody with a Mickey Mouse-themed Christmas tree.
Brandy has proven time and time again just how much she cares for her niece, Melody. In Christmas, she showed just how spoiled the little girl is when it comes to her, as she decided to give her a huge gift.
Melody is clearly a Mickey Mouse fan, with the video her mom showing the famous mouse more than once.
Princess revealed the Mickey Mouse-themed Christmas tree and the matching Mickey gifts underneath it, a surprise from her aunt Brandy.
"It's all about creating beautiful memories for Melody's 1st Christmas."
The Norwoods share a really close relationship with one another, and all they want is the best for one another. That is why as early as now, they are already providing little Melody with all the best things in life, something that you could be sure to continue until she grows older.
Please fill in your e-mail so we can share with you our top stories!