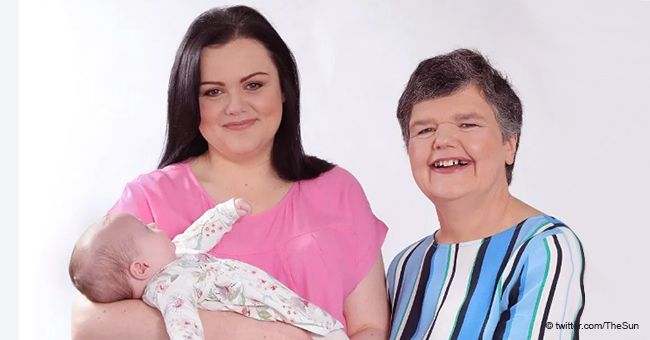 55-Year-Old Mom of Daughter Who Was Born without a Womb Gave Birth to Her Own Grandchild
A woman who was born without a womb used other means to have a child with her husband. Her 55-year-old mother was also closely involved.
Tracey Smith was born with a condition called Mayer-Rokitansky-Küster-Hauser syndrome (MRKH). This means she has no womb but has ovaries and fallopian tubes.
Tracey took a while to accept her reality. Yet it didn't matter too much until she met her husband Adam Smith in April 2014. They were engaged a couple of years later and ready to start their family.
Tracey said:
"The issue of having a family was always on my mind. I'd told him it was never going to happen with me. It was an upsetting subject and I'd even tried to push him away."
When Tracey was diagnosed with MRKH at 16 years old, her mother Emma Miles offered to carry a child for her when the time came. At 31, her mother's words were far back in Tracey's mind.
Tracey and Adam worked on using in-vitro fertilization (IVF) to have their first child, but they needed a surrogate. They considered using a surrogate agency yet the issue of finding someone trustworthy enough put a dent in their search.
Tracey explained:
"At home Adam and I talked about using a surrogacy agency, but worried about finding someone we trusted. British law gives the surrogate all parental rights from birth and that felt like a huge risk."
Parental rights for a child are often awarded to the surrogate mother and the situation tends to get complicated. Eventually, Tracey recalled her mother's selfless offer and took her up on it.
"Mum met our consultant in March 2017 and they put a plan in place to prepare her body for pregnancy. They did not seem concerned about her age."
Miles lost 84 pounds over just four months in order to make it possible for her body to carry a baby. At 38 weeks, she was forced into labor and ended up delivering baby Evie via cesarean-section last month.
The 55-year-old was happy to make the sacrifice to see her daughter and son-in-law happy. Despite the best of intentions, however, the family is now dealing with a lengthy court process.
Evie's mother is listed as Miles because it was the grandmother who delivered her. It will take months before Tracey is able to legally call her daughter her own.
Another mother who gave birth to her own grandchild was Tracey Thompson. Her daughter, Kelcey McKissack went through three miscarriages with husband Aaron McKissack before seeking out other options.
In a similar twist, Thompson had joked with her daughter about carrying a child for her when Kelley was just a teenager. At the time, the young girl gave little thought to the idea as a real possibility.
In 2015, Tracey delivered a healthy baby girl in Texas. Thompson said that it was "a blessing that [she] could do this for [her] daughter." The married couple and Thompson were eager to share the news online so others might be inspired to use surrogacy to have their family.
There was another woman born with MRKH who decided to do something about it in her own body. Malin Stenberg, a Swede, opted to get a womb transplant to try and have a baby with her partner.
She worked with the Gothenburg University, who were doing tests of the procedure for people like Stenberg. Doctors transferred a womb from Ewa Rosen, Malin's godmother, and then had her do IVF.
The process was successful and a year later, Stenberg became the first woman to successfully give birth following a womb transplant. Baby Vincent was born two months premature but survived despite the odds.
Please fill in your e-mail so we can share with you our top stories!