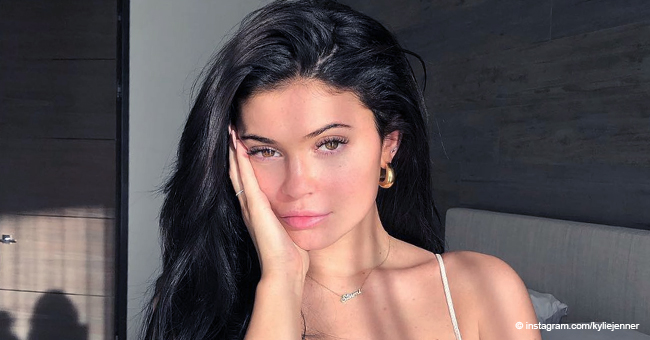 Kylie Jenner Sends Fans into Overdrive after Sharing a Snap of Pink and Blue Nails on Instagram
One of Kylie Jenner's latest posts on Instagram sent her 130 million fans into rumor overdrive as she keeps them guessing about her private life.
Kylie posted a picture of beautifully done nails, one hand with pink nails, and the other with blue. Fans immediately took it as a not so subtle hint that the youngest ever "self-made" billionaire is expecting her second child.
Speculation had been doing the rounds that Kylie will give 21-month old Stormi a sibling before the year is over as fans nit-picked through every photo on her Instagram account.
The promotional nail picture in colors associated with babies just fueled the fire, even though she has a beauty range "Kylie Cosmetics" that helped her become a billionaire at only 21, as she captioned the image, "Back at it again with nail bae."
Comments soon began streaming in as one fan replied, "Imagine she was having another private pregnancy and she got the blue for boy and pink for girl." While another fan asked outright, "Are you pregnant?"
The pregnancy rumors just piled onto claims that Kylie left the show "Keeping Up With The Kardashians" after her best friend Jordyn Woods got caught getting hot and bothered with Khloe Kardashian's now-ex Tristan Thompson.
"Kylie took a little break from filming Keeping Up With The Kardashians and recently got back into filming, and it's been a struggle and difficult. She was very upset about the situation with Jordyn and also just didn't want to deal with it and have to address it," a source told Us Weekly.
Accusations of cheating just expanded as Kylie accused her man Travis Scott of cheating at the beginning of March as well.
On February 18, Kylie showed off a ring on Instagram Stories that appeared to be an engagement ring, but she didn't confirm anything.
The same thing happened in January when she posted a sexy image with a caption written in Spanish "extraño a mi esposo," which means "I miss my husband" and got fans speculating and confused about her and Travis' relationship.
In January rumors of Kylie being pregnant did the rounds as well, and she was quick to shut them down:
Travis and Kylie first sparked dating rumors back in April 2017 after she broke up with Tyga, and what started as trying to make her ex jealous, turned into a relationship riddled with speculation.
However, it might be the way she revealed her first pregnancy that has fans so certain about baby number two. In October 2017, Kylie posted an image of blue and pink phone cases on Snapchat and asked fans, "Which one? I'm thinking blue."
A striking similarity to be sure, but fans will have to wait for confirmation as she can only hide it for so long if she is indeed pregnant with baby number two.
While on the subject of Kylie and babies, she recently revealed why she chose the name Stormi for her daughter.
Please fill in your e-mail so we can share with you our top stories!