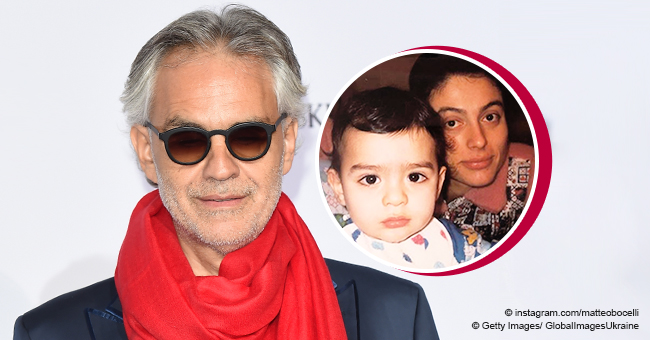 Andrea Bocelli's Son Shares Rare Childhood Photo as He Wishes His Mother a Happy Birthday

The 21-year-old followed his father's steps and became a lyrical singer. He has joined his father onstage and in the recording studio on several occasions, but this time he took to social media to honor his mother.
On March 26, Italian tenor Andrea Bocelli's son Matteo shared a throwback family picture showing him as a toddler next to his mother Enrica Cenzatti on Instagram to mark her birthday.
Matteo quoted a line from a popular Italian song titled "Mamma" before wishing Cenzatti a happy birthday. The song lyrics, written by Claudio Villa, talk about the love a son feels for the woman who gave him life.
"Ma la canzone mia piu bella sei tu! Sei tu la vita E per la vita non ti lascio mai piu!" Matteo wrote, which translates, "But you are my most beautiful song! You are life and as long as I live I will never leave you."
Cenzatti was Andrea's first wife. The two married in 1992 and divorced ten years later, although in friendly terms. Their union produced two sons: Amos, born in 1995, and Matteo, born in 1997.
Following the divorce, Cenzatti and Andrea kept living in the same neighborhood and the two shared custody of their children. She maintains a low profile and is a very private person, so not much is known about her family, education or job.
Both Amos and Matteo are formally trained musicians, but the former prefers to sit behind the piano, while the latter has become a singer just like his 60-year-old father.
The brothers have been featured on Andrea's albums, with Amos playing along to him in two acoustic songs, and Matteo performing a couple of duets on his father latest album "Si."
Matteo is arguably the most famous of the two brothers, thanks to his public appearances with Andrea in videoclips and on stage, and also because of his good looks.
Andrea is very proud of Mateo and has praised him for finding his own expression in his singing."Technically [our voices] are very different, but there is one thing that makes them most similar: the attitude. That characteristic way of expressing yourself through your voice," Andrea told Billboard after they debuted their song "Fall On Me."
"This makes Matteo and I very similar. But that is something that you cannot learn, that cannot be taught. That is something you are born with," Andrea added.
On February 5, Andrea and Matteo took the stage of the prestigious Sanremo Music Festival, also known as "Italy's Eurovision" to perform "Fall On Me," which serves as the closing track to Disney's version of "The Nutcracker."
Italy's biggest music festival, a tradition started in 1951, was aired on state broadcaster Rai, and the opening night of this year's edition, when the father-son duet was performed, it was watched by over 10 million people, furthering cementing Matteo's reputation as a singer.
Please fill in your e-mail so we can share with you our top stories!