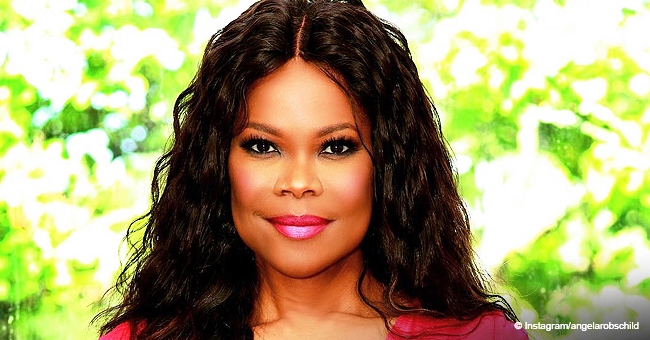 'The Haves and The Have Nots' Angela Robinson Shared Photos from Son's 1st Lavish Birthday Party
Angela Robinson's son just turned 1, and the "Haves and the Have Nots" star posted sweet photos of the celebrations.
Everyone's favorite villain from "The Haves and the Have Nots," Angela Harrison, is celebrating a very special date: Her son Robinson Scott's first birthday.
The actress shared photos from Robbie's birthday party on Instagram, to the delight of her many fans.
A NEW ADDITION TO THE ROBINSON/ WHITEHURST
Angela and her husband Scott Whitehurst welcomed Robbie into their lives on Father's Day, 2018.
Angela revealed that she and Scott had adopted baby Robbie on social media, posting an adorable photo of the couple holding the baby for the first time:
"Meet our son Robinson Scott aka Robbie. Adoption has gifted us beyond measure. Wishing my husband the Happiest FIRST Father's Day Ever."
Angela, 54, has been happily married to Scott for 23 years, and they have finally achieved their dream of adopting a baby
THE BEST BIRTHDAY PARTY EVER
Angela posted a collage of photos of Robbie's party, which had a zoo theme. The yummy-looking 2-tier birthday cake was iced in pale yellow and blue and decorated with animal figurines and sugar flags. Even the cupcakes were iced with cute animal faces.
ANGELA ROBINSON: FINALLY A MOM
Angela, 54, has been happily married to Scott for 23 years, and they have finally achieved their dream of adopting a baby to complete their family. From being a happy wife, Angela took the big step to become a new mom.
ANGELA ROBINSON'S ADVICE FOR A HAPPY MARRIAGE
Angela's marriage has stood the test of time, and she shared her secret with her fans:
"You hear all the time marriage is time, marriage needs work, you have to work at it. I think all of that is true, but the end result is you should be happy and you should be friends with your partner and it should be fun."
ANGELA ROBINSON'S ADORING HUSBAND
The talented actress who started her career in and off Broadway, taking roles in productions like "The Color Purple," "Dream Girls" and "The Wizard of Oz," spared no praise for her handsome husband on his birthday:
"Last night as people affirmed you the common thread was: YOU as an ENCOURAGER, YOUR KINDNESS, YOUR INTELLECT, YOUR TALENT, YOUR GENEROSITY and YOUR SERVANT'S HEART. They got it all. You are a blessing to all those who encounter you. HAPPY BIRTHDAY my man."
Robbie is a lucky boy to be joining such a happy and loving family. Happy birthday, Robinson Scott.
Please fill in your e-mail so we can share with you our top stories!