Wendy Williams Gets Blasted for Shutting down Excited Fan Who Tried to Hug Her during Taping
Wendy Williams is facing backlash online for rudely rejecting an excited fan's hug during a recent taping of her eponymous show. The TV personality's hostile expression, seen in the video below, is even more outrageous.
Williams, 54, is yet to catch a break with the reported problems in her personal life, and now, she's catching all the heat for her inappropriate behavior.
She admitted two weeks ago that she's been dealing with alcohol addiction and after reports emerged last week that her husband, Kevin Hunter, just welcomed a child with his mistress, Williams allegedly fell into a relapse.
Williams has remained mute on her rude behavior toward the excited fan and continues with her show.
Maybe the pressure somehow got to her, but that was no excuse for the way the TV diva shunned a fan recently. In footage posted to Instagram by The Shade Room, Williams can be seen holding a sort of giveaway for her audience members and an overwhelmed fan made her way out of the crowd to get her prize.
The unidentified woman, wearing an orange jacket, had her hand over her mouth as though trying to contain her excitement at meeting her TV idol. She stretched out her hand to hug Williams, and that's when things turned very awkward.
"No hugging!" Williams barked at the woman and snatched away the prize – a t-shirt – as though she was thinking of taking it back. Social media users also caught Williams' hostile expression toward the fan and went in on her in the comment section.
"Excuse her y'all the coke got her paranoid," mocked one Instagram user in reference to Williams' previous confession of cocaine addiction.
"That was rude as hell honestly. And the look she gave was even worse," chimed in another angry person. "Like girl calm down, she was happy to see you."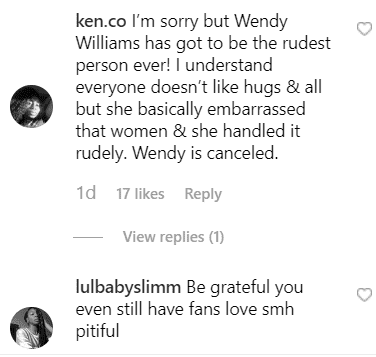 One Instagram user rubbished claims that "Wendy Williams Show" host does not like hugs and pointed out that she hugs her celebrity guests:
"Everybody talking about 'she's not a hugger' but yet she's open arms with every guest that comes on the show that gets paid to talk to her but not with her fans that actually come to her out of love ... OK"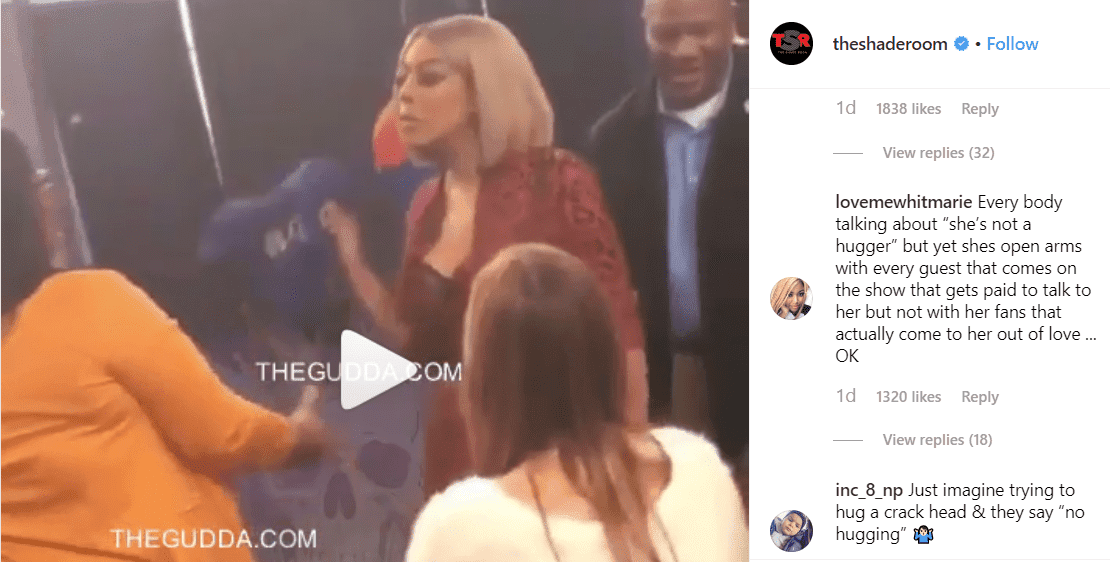 Williams has been all over the news lately for all the wrong reasons, and this will likely have her losing public sympathy over the alleged personal troubles she's facing.
Like most of the other reports, Williams has remained mute on her rude behavior toward the excited fan and continues with her show as though all is right in her world.
The former radio persona announced last week that her show is going on a "planned break," and whether it's a cover for some time off to deal with family/health issues, remains to be seen.