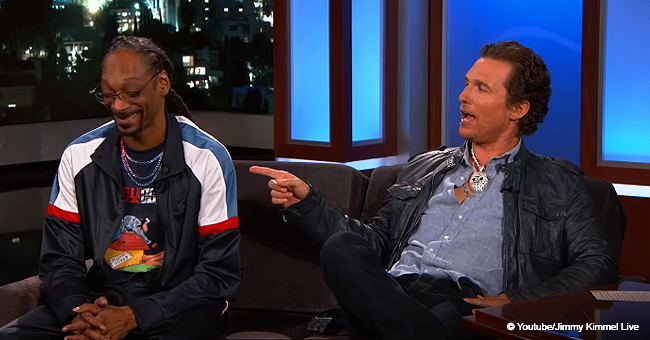 'You Rapped for 13 Hours Straight,' Snoop Dogg after Tricking Matthew McConaughey into Smoking Weed
Snoop Dogg and Matthew McConaughey recently visited "Jimmy Kimmel Live!" to promote their new film, "The Beach Bum." And among other things, the pair recalled the hilarious story of how Snoop got Matthew high on set by changing his prop weed with "Snoop weed."
Snoop Dogg and Matthew McConaughey are an unlikely duo in many ways but turns out, they go pretty well together. Even the "Gin and Juice" rapper thinks so, telling Jimmy Kimmel that although he doesn't remember how they met, they were meant to be.
"It's magic. I think certain people in life are meant for each other," he said. "I think Matthew and I were meant for each other. It's meant to be."
The pair joined forces on director Harmony Korine's new film "The Beach Bum," which follows the story of a stoner poet that has to touch rock bottom to go up in life once again.
McConaughey plays the lead role, Moondog, and Snoop plays a rapper and weed connoisseur named Lingerie, or Rie for short.
Recalling the first scene they did together for the film, Matthew revealed on "Kimmel Live!" that he got tricked and got high on set when Snoop purposefully changed his weed prop for the real thing.
"We do the scene, and it's about an eight-minute take, [which is] a long take if you're passing a joint back and forth and you're smoking hardcore to the heels of your feet," McConaughey explained. And added:
"So the scene goes on and right after the scene I just feel like, 'Man, I'm not sure that was a prop…' And I look over, and Snoop goes, 'Yo, Moondog, that wasn't prop weed, that was Snoop weed.'"
"I said, 'Okay man. Buckle up because here we go!' " McConaughey recalled.
What followed is a blur for the 49-year-old actor, but Snoop made sure to fill in the details for him. "You rapped for 13 hours straight," the Walk of Fame inductee pointed out with a smirk.
"I didn't speak another word of English, really," McConaughey said. "It was one of those highs where I didn't really catch my breath until 5:30 the next day."
Matthew expanded on his story while talking to E! News at the premiere of the film, revealing how exactly he realized the weed was real. He said:
"Seven minute take and about six minutes into it, I was like...I was already vibing, but the floor started to have some different frequencies. I remember feeling like...I'm stepping on some dry potato chips...No, it was a marble floor. there was no dried grass or dry potato chips on the floor...then at the end of the cut, I find out that it was his green."
McConaughey and Snoop also share the screen with Isla Fisher, Stefania LaVie Owen, Zac Efron, Martin Lawrence, Jonah Hill, and Jimmy Buffett.
Please fill in your e-mail so we can share with you our top stories!