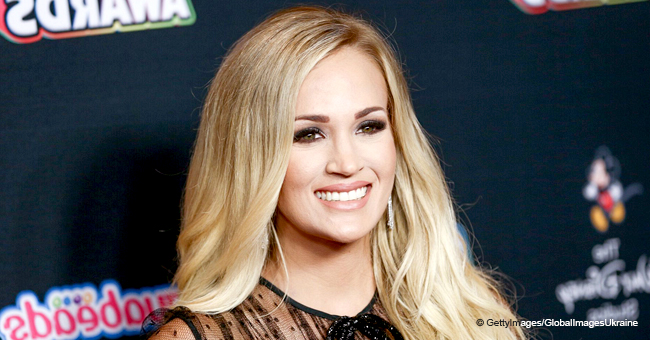 Carrie Underwood Goes Makeup-Free and Reveals Her Son Calls Her 'Carefree Underwear'
Grammy-winner Carrie Underwood keeps it real with her fans, showing them that she's not afraid to go bare-faced and honest about how challenging being a mom-of-two can be.
In a cute Instagram post, the singer shared her post-workout look with the caption,
"When your face matches our shirt = you had a good workout! Unless your shirt is blue...then maybe you should be concerned! (LOL) (sorry, total mom joke) I took these pics after my gym sesh yesterday (today I'm cleaning this mess of a house, which I totally consider to be my Saturday workout). This is one of my favorite new outfits...I especially love the top because this is basically my motto these days!"
Her blush pink top that matched her glow had an "I'm doing this for me" print, which Underwood was referring to in her post.
As Underwood tries to bounce back after admitting it was a bigger challenge this time around, her eldest Isaiah Michael found a way to cheer her up with his funny quip.
She took to Twitter to share the funny moment saying,
"My own kid just called me 'Carefree Underwear.' This is basically elementary school all over again."
Underwood and husband Mike Fisher feel grateful for their growing family, especially after she shared that they suffered through three miscarriages over the last two years.
The couple found an adorable way to announce the blessing to her 7.6 million followers by saying they were "excited to be adding another little fish to our pond."
Carrie confessed that while she relished every moment, the road to motherhood the second time around was noticeably harder.
"It's definitely different than the first time. When they say every pregnancy is different, it really is. Just different symptoms."
Taking her fans on her journey, Underwood posted the birth announcement of her baby, Jacob, with gratitude, saying,
"Jacob Bryan Fisher entered the world in the wee hours of the morning on Monday… his mom, dad, and big brother couldn't be happier for God to trust them with taking care of this little miracle."
Please fill in your e-mail so we can share with you our top stories!