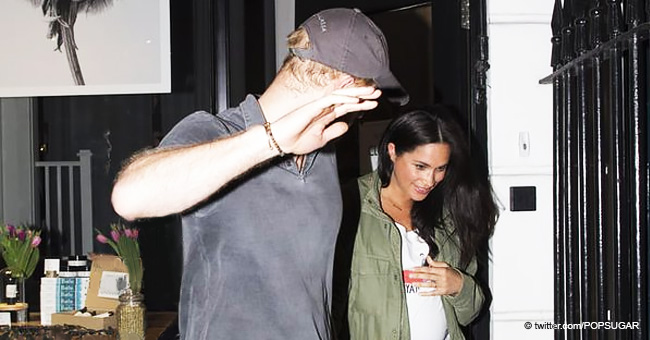 Meghan Markle's Bump Made Cosy in Daddy's Favorite Jacket
On Monday the Duke and Duchess of Sussex made a surprise appearance out and about in London and with mere weeks to go before their baby is born, Meghan snuggled up in on of Prince Harry's jackets.
The royal couple both took leave from their royal duties for final preparations ahead of baby Sussex's birth and got spotted on a shopping trip to Ila's Apothecary wellness store in London.
The highly pregnant and glowing Meghan looked comfortable in jeans, a loose T-shirt, and one of Prince Harry's favorite khaki jackets.
Prince Harry completed the look of just another pregnant couple out on prenatal shopping in a dark T-shirt and a baseball cap.
An old favorite of Prince Harry, he got pictured wearing the khaki coat during a training session in 2015 for the RFU Injured Players Foundation.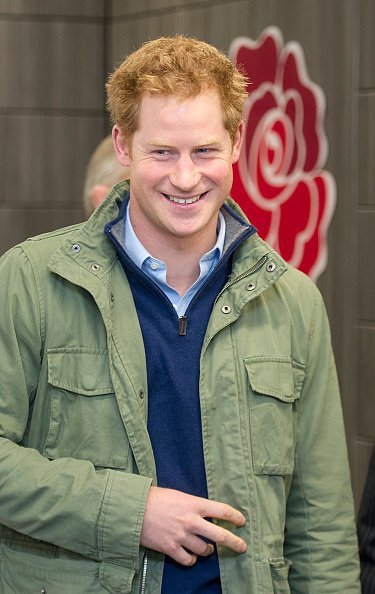 Prince Harry attends a training session for RFU Injured Players Foundation at Twickenham Stadium on February 1, 2015, in Twickenham, England.| Source: Getty Images.
With Meghan being a known supporter of a natural lifestyle it came as no surprise that she visited the apothecary shop. According to Ila's website, their "products are infused with powerful natural ingredients," and include herbs and medicinal flowers with a long history of healing, including Thyme, Borage, and Rose Geranium.
As part of their company philosophy, they believe that the products we use on our skin directly affect our hearts. While the heart is "the center of emotional wellbeing, energy and vitality" they pride in using no chemicals and only the best quality potent natural ingredients. With a wide range of products, it promises to do more than look after one's skin.
But the royal couple's outing to Ila's Apothecary store on Monday is not the first time Meghan donned one of Prince Harry's jackets.
At the end of October 2018, Meghan also got pictured snuggled up in one of Prince Harry's jackets. During one of the final days of the royal couple's tour of the South Pacific, Meghan grabbed Prince Harry's down jacket during an outing.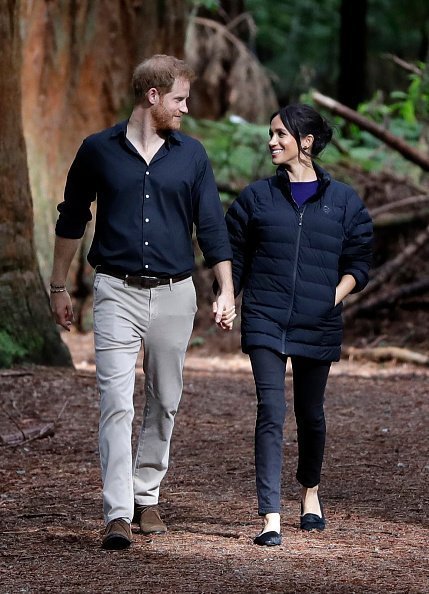 Prince Harry, Duke of Sussex and Meghan, Duchess of Sussex visit Redwoods Tree Walk on October 31, 2018, in Rotorua, New Zealand. | Source: Getty Images.
Cozied up as she walked alongside Prince Harry through the Redwoods Treewalk Rotorua in New Zealand, he got pictured wearing it himself at Abel Tasman National Park a few days earlier.
Manufactured by the Norwegian outdoor sports gear and clothing brand Norrøna, the lightweight down jackets are available in style for women as well and come in black and navy.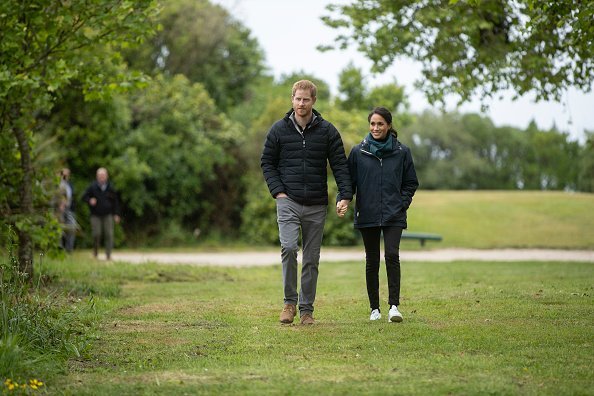 Prince Harry and Meghan attend Totaranui Campground in the Abel Tasman National Park on October 29, 2018, in Wellington, New Zealand. | Source: Getty Images.
The last few months saw many changes come to the royal family, and with another one just around the corner, a source revealed that Prince Harry and Meghan petitioned for a specific type of independence to which the Queen did not respond in the way they'd hoped.
Please fill in your e-mail so we can share with you our top stories!