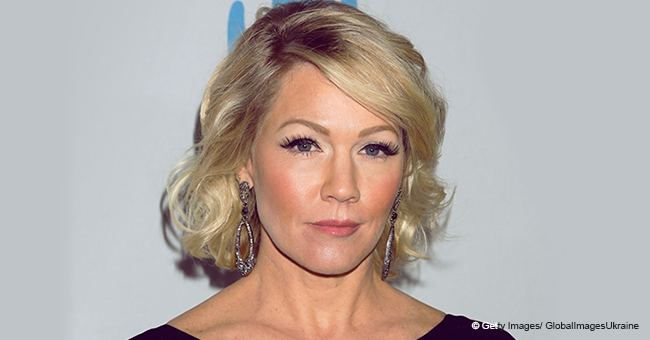 Jennie Garth Claps Back at Trolls Who Called Her Face 'Fake' in a Photo with Tori Spelling
Jennie Garth was spotted with her 90210 co-star Tori Spelling, but their sweet reunion was blasted by social media users accusing them of their fake appearances from plastic surgery.
Spelling and Garth were in Israel to shoot an ad campaign for the Castro Kids brand. It was the first trip of Spelling, but the second for Garth who visited with some of the 90210 cast for a guest performance in a Hanukkah special back in 1992.
Garth posted a photo on Instagram of their quick 24-hour visit but got flack from fans and haters commenting on how much she and Spelling have changed. Her caption which thanked the brand for their trip to Israel also read,
"Working with my favorite partner in crime!"
Responses to the post ranged from criticism to support for the stars, who are already in their forties.
A user commented on Garth's overuse of Botox saying,
"Oh, Jennie! You are beautiful and don't need all that Botox! Sadly you are unrecognizable here!"
To which Garth reacted with, "Thank you?"
One other person went straight to the point saying, "So fake" to which Garth quipped, "Nope, I'm human."
In defense of their idols, fan users also showed their disgust for the hate that came of the post with one sharing,
"You know, some of our favorite people who we looked up to growing up are kind enough to share their lives with us, and all you people can do is get on here and put them down. I'm disgusted really. They don't have to share anything with us; they do it because they want to interact with their FANS."
Spelling and Garth were among the friends and castmates who mourned the death of Luke Perry, and they were both in touch with him a week before his passing. Luke was telling them about how his daughter Sophie was on a volunteer mission to Malawi.
Spelling says this about her co-star,
"He was the kindest and most humble person I have ever known."
Garth, for her part, felt empathy for his family told People that she "feels the deep sadness that his family is feeling at this time."
Please fill in your e-mail so we can share with you our top stories!