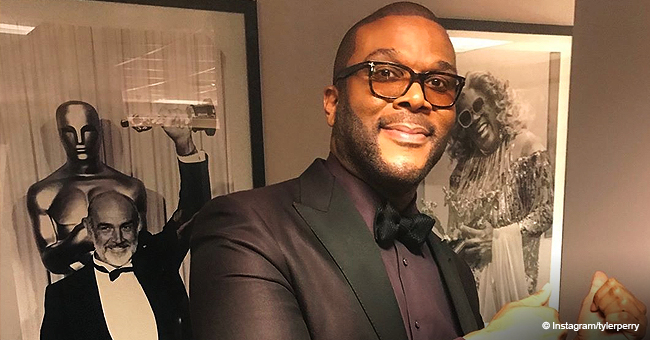 Tyler Perry's Longtime Partner Stuns in Black Mini Dress & Matching Boots in New Picture
Dedicated to helping the less privileged, Gelila Bekele, a figure worth emulating possesses an aura of beauty and prowess. The Ethiopian model recently uploaded a post to her Instagram, dressed in an all black outfit, but what made her look captivating was her boss-lady pose.
Black seems to be Bekele's color, and it sure looks good on her. The beautiful model in the post had a sophisticated yet simple all-black outfit with a high-boots on. The image which seemed to be taken on a street somewhere had on a lovely bright smile, and also a nude colored hat which brought life to the image.
Bekele is engaged to Hollywood's famous African American actor, Tyler Perry. The couple has a 4-year-old son, named Aman Tyler Perry. Although photos of their child have not surfaced in the media, the duo intends to keep off any attention channeled at their baby boy.
Both partners seem to share similar goals and ideas. While the African beauty is engaged in charitable works that address fundamental problems that plague the citizens of her country, like education, healthy drinking water; Tyler, on the other hand, has a foundation, that cares about similar objectives.
Tyler's sweetheart happens to be culturally interested, and seemingly involved with her birthplace. Recently, she launched "project Guzo," a book that features the cultural dynamics of the people of Ethiopia, from their lifestyle to foods, and history.
They both share a formidable bond; the movie producer seems to be so in love with her, and would not trade the love they share for anything in the world. In an interview with People, he stated that:
"There's no other person on this planet that I would love to be in love with, or have a child with."
It is no surprise that their love runs deeper than the ocean, he expressed that he had not expected to hear of her pregnancy via face time, but has lived up to the expectations of a father, mainly because he didn't know his father.
According to Perry, his love for his son makes him fulfilled.
"The whole day is 'Paw Patrol, he loves 'Paw Patrol', he wants to watch paw patrol, he has never seen a television, he watches it on his iPad, we have to take it away ,then we go out to do normal things, and then it ends with 'Paw Patrol'" - Tyler Perry.
Undoubtedly Perry is a family man, and rumor has it that, he and his heartthrob may have tied the knot in secret. It wouldn't take the world by surprise, as they have been dating for nine years. They first met in 2007, at a concert, and has since been entangled in their love affair.
Please fill in your e-mail so we can share with you our top stories!