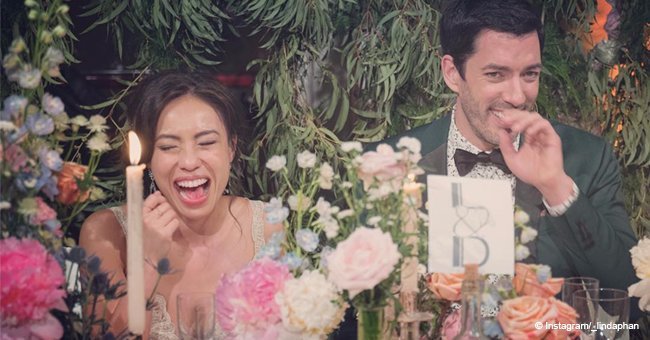 An inside Look at 'Property Brothers' Drew Scott and Linda Phan's Wedding

"Property Brothers" star Drew Scott and wife Linda Phan shared photos of their wedding in May 2018 to their fans on Instagram.
Scott and Phan tied the knot in Italy in 2018. The newlyweds uploaded pictures on the social media platform to share their special day with their fans.
300 of the couple's close friends and family were flown in from the US, Canada, Scotland, and Latin America to witness Phan becoming Mrs. Drew Scott.
The wedding was also documented for a TLC special, "Property Brothers: Linda And Drew Say I Do," which aired on June 2, 2018.
The pair met in 2010 during the Toronto Fashion Week and became engaged in December 2016. Since then, Phan became the creative director for Scott Brothers Global.
Talking about their wedding day, the couple told People, "We are still floating on clouds… today couldn't have been more magical. Surrounded by so many loved ones in such a beautiful place was unreal."
A photo Phan shared on Instagram showed the couple at the reception. She wrote on the caption, "We'll be smiling this hard even when we can't find our dentures."
A second photo featured the couple standing under a flower arch. Phan featured a touching message from a friend who officiated at the wedding on the caption.
Some of the photos she uploaded included the pair putting on each other's wedding rings with the more lines from the wedding speech on the caption.
The Devil's Workshop custom-made the rings. The site, which is based in Toronto, has been in business for more than 12 years.
Following the ceremony, Scott spoke with People and exclaimed how excited they were of expanding their family.
He posted a photo of Phan in her wedding dress – made by Claire Pettibone – on his own Instagram page.
As for his attire, he paid homage to his Scottish descent by wearing a kilt. He made all his groomsmen wear the same thing as well. All kilts were from Claymore Imports.
A romantic song entitled "You Chose Me" was also recorded by the Scott brothers, and it is a song about the wedding. The music video was composed of scenes from the couple's wedding day.
After the wedding, the two brothers, Drew and Jonathan, released another book.
This latest one – which focuses on a much younger target audience - is about the passion for building and brotherhood.
The book was released in October 2018, and is called "Builder Brother: Big Plans." The two brothers announced the book in an interview:
"We have been dreamers our whole lives, and it's incredible to think we can take our childhood stories and inspire a new generation of kids."
In 2016, the Scott brothers released their first book, "Dream Home: The Property Brothers' Ultimate Guide to Finding & Fixing Your Perfect House," and also recently published a memoir, "It Takes Two: Our Story."
Please fill in your e-mail so we can share with you our top stories!