10-Year-Old Boy Handcuffed by Washington DC Police, Mother Says He Is Innocent and 'Traumatized'
A mother expressed her outrage after her ten-year-old son was handcuffed and led away in a squad car by the Washington DC Police.
Chaquitta Williams is angered by what she deems is an unreasonable attitude on the part of the Washington DC Police who handcuffed and arrested her 10-year-old son.
The incident was captured on video by a bystander and has since gone viral on social media.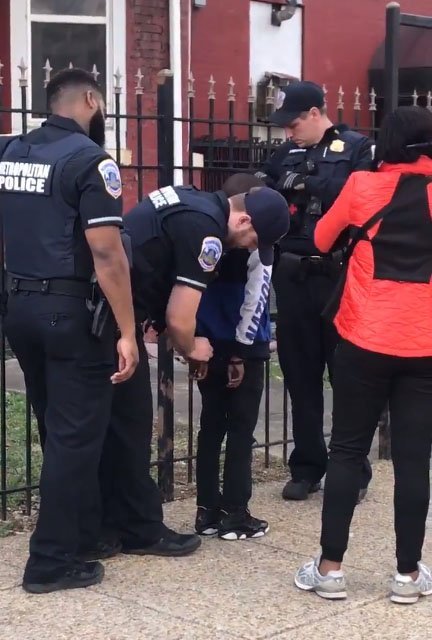 POLICE ARRESTED SEVERAL BOYS FOR ROBBERY
Williams' son was one of several boys arrested by the Police after a report that another boy had been beaten and robbed of his cellphone.
The boy was arrested by the Police on the street and handcuffed before being led to a squad car and driven away.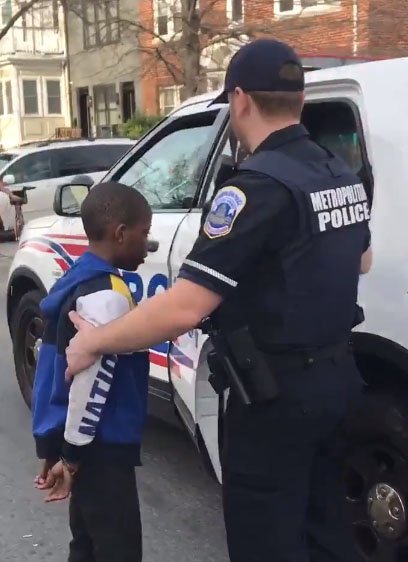 Both boys were later released without being charged with any crime.
THE POLICE DID NOT CONTACT THE PARENTS
Williams revealed that she discovered her son had been arrested when a friend who had witnessed the incident called her. Despite her son being a minor, the Police had not informed her that he was being detained.
THE VIDEO THAT IS SPARKING OUTRAGE
The video clip of the incident shows the officers handcuffing the child's hands behind his back while the bystanders express outrage, shouting "He's just a child."
An officer then marched the boy across the street to the squad car and put him in the backseat before driving away.
ARRESTED WHILE WALKING HOME WITH HIS BROTHER
According to Williams,.her 10-year-old son was walking home from Union Station with his 14-year-old brother when they were detained by the Police. The two boys panicked when accosted by the officers and ran:
"That's why I told them you shouldn't have never ran[sic]. If you run, they're going to assume that you're doing something."
Both boys were later released without being charged with any crime. The Police issued a statement revealing that according to police protocol, the Youth and Family Services Division had been contacted when the children were detained.
11-YEAR-OLD ARRESTED IN SCHOOL
In a separate incident, an 11-year-old 6th-grader from "Lawton Chiles Middle Academy" in Polk County Florida was arrested on February 4, 2019, for supposedly refusing to stand for the Pledge of Allegiance.
The arrest was the outcome of a clash between the boy and his teacher over his refusal to stand. The teacher then asked the student to leave the classroom, which he refused. The teacher called for the Police and had the boy arrested.
Like Chaquitta Williams, the boy's mother Dhakira Talbot, has expressed her anger and outrage and called for an investigation of the incident. The student has been charged with disturbance and disruption by the Polk County Police.