Ex-Inmate Alice Johnson Who Kim Kardashian Helped Pardon Hugs & Thanks 'Incredible President' Trump
President Donald Trump received a big hug from Alice Johnson at an event held in the White House to celebrate the criminal justice reform bill known as the First Step Act. Johnson's life sentence was commuted by the president last year after Kim Kardashian personally lobbied on her behalf.
Alice Marie Johnson joined President Trump at an event held at the White House on Monday to celebrate the bipartisan achievement of the First Step Act, legislation that's set to expand job training and early-release programs, and will modify sentencing laws, including mandatory minimum sentences for nonviolent drug offenders.
Trump welcomed and addressed several ex-convicts present at the event, giving each one the chance to speak and tell their stories.
Among them, Alice Marie Johnson was perhaps the more recognizable face thanks to the efforts led by Kim Kardashian West last year to help the grandmother regain her freedom.
ALICE JOHNSON'S SPEECH
Trump introduced Mrs. Johnson as "a woman who I think is a terrific woman and spokesman," who "was in jail for a long time, and she had a long time to go" but whom he helped "a bit."
After taking the stage, Mrs. Johnson hugged the president, as both smiled to each other under the eye of the dozens of people in the room.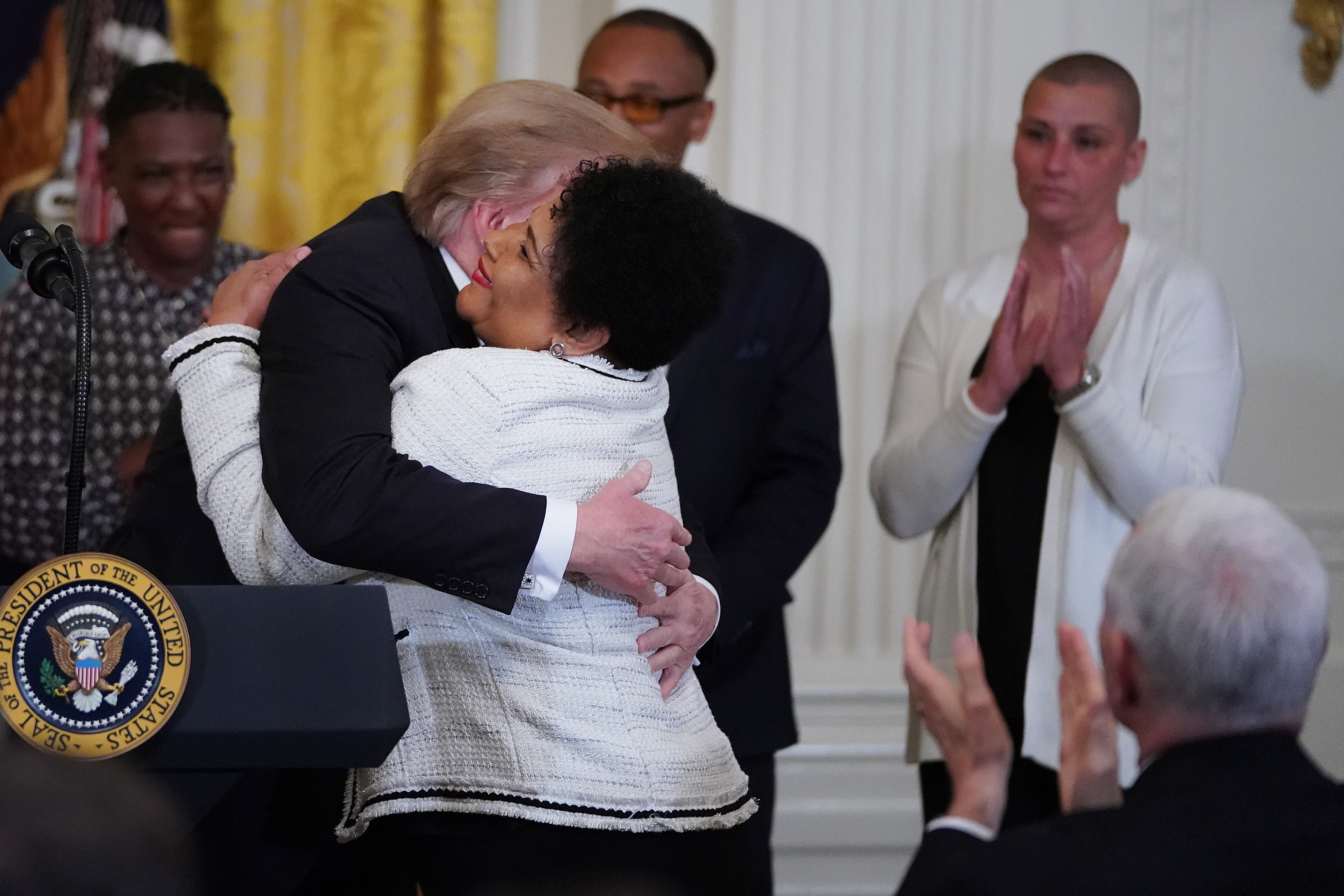 The 63-year-old Tennessee woman first made sure to thank God, and then added, "I want to thank our incredible President, President Donald John Trump. I just told him I finally get a chance to hug you and properly say thank you for believing in me."
And continued:
"And I'd like to thank all of the advocates who have fought so long for me, who have been working behind the scenes trying to magnify my case. thank everyone in this room for your prayers."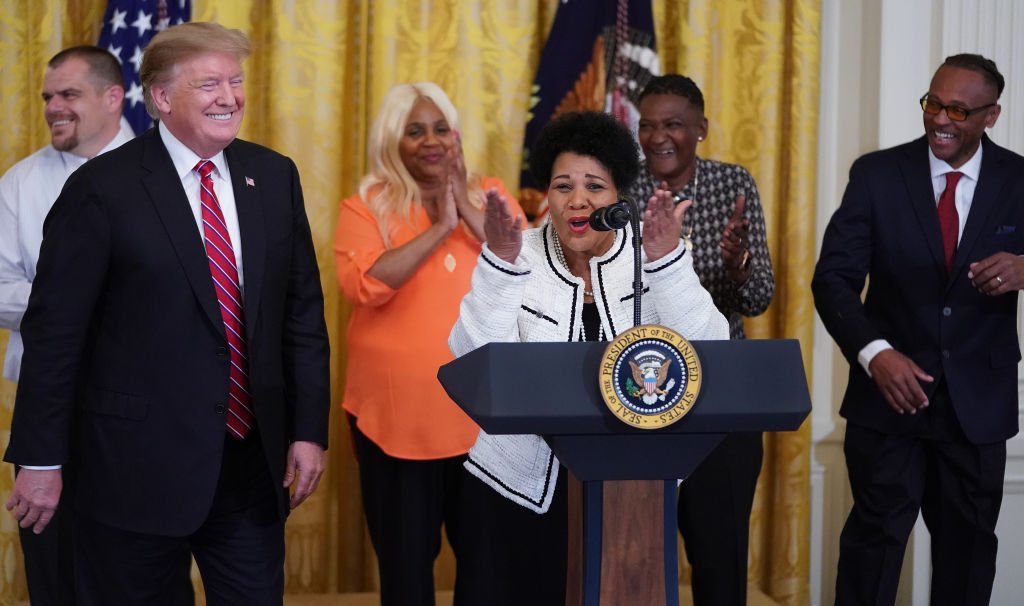 She also added, for everyone's surprise, that she wanted to thank the media for being kind to her and spreading her story, to which the president replied jokingly: "are you sure?" 
A LONGTIME SENTENCE CUT SHORT
Johnson was sentenced to life in prison in 1996 for her nonviolent involvement in a Memphis cocaine trafficking organization.
In 2017, Kim Kardashian got interested in Alice's story and started to rally for her freedom. Eventually, the reality star had a meeting with the president at the oval office to discuss not only Johnson's case but also the criminal justice system and its flaws overall.
A week after the meeting, the White House released a statement announcing that Trump had commuted Johnson's sentence.
BEST NEWS EVER!!!! 🙏🏼🙏🏼🙏🏼 https://t.co/JUbpbE1Bk0

— Kim Kardashian West (@KimKardashian) June 6, 2018
"Ms. Johnson has accepted responsibility for her past behavior and has been a model prisoner over the past two decades. Despite receiving a life sentence, Alice worked hard to rehabilitate herself in prison, and act as a mentor to her fellow inmates," the statement read in part.
And continued:
"While this Administration will always be very tough on crime, it believes that those who have paid their debt to society and worked hard to better themselves while in prison deserve a second chance."
NEW DOORS OPEN FOR JOHNSON
Kardashian was the first to break the news to Mrs. Johnson over the phone, and they later met face to face for a joint interview with "Today," where both women revealed they would continue to work for other people that, like Johnson, deserve a second opportunity.
Johnson is also set to oversee a TV and movie project based on her story, as she signed a deal with Endeavor Content and One Community in February.
The movie or series is set to be inspired on Alice's upcoming memoir book, "After Life: My Journey From Incarceration to Freedom," which will be published on May 21 by Harper Collins and will include a foreword by Kardashian West.
"My life has forever changed because of Alice Marie Johnson," Kardashian West said.
And continued:
"Her story is a gift that will now reach so many millions more through her book and film. I hope Alice's case is just the beginning of a movement to help those left behind. I am invested in continuing to support Alice and this cause."
Johnson said, "I feel humbled that the telling of my story gives hope and my years of pain were not in vain."