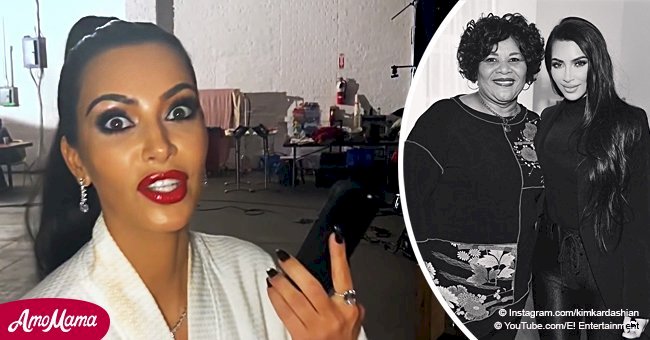 Tearful video of Kim Kardashian telling Alice Johnson she's free after 21 years in jail
An emotional few minutes transpired as Kim Kardashian told Alice Marie Johnson over the phone she is going to be released from prison.
Kim heard about Alice for the first time in 2017 and decided to help her. In May Kim met with President Trump to try and get Alice clemency, as she was a first-time, non-violent drug offender with a life sentence having spent 21 years in jail already.
After Kim got word from the President, she made the call to the prison to speak to Alice in this week's season finale of KUWTK. Alice and Kim's lawyers are all on the call, as they patch Alice through from prison and Kim, unknowingly, is the one that gets to deliver the happy news to Alice.
It took a few moments for Alice to understand what Kim meant when she told Alice, "We've done it!" In full makeup and hair, Kim was onset for a photo shoot and tried to keep the tears away as Alice reacted with pure joy.
Read more on our Twitter account @amomama_usa.
After her release, Alice sent Kim a letter, which Kim later shared on social media which read:
"I was drowning, and you have thrown me a life jacket and given me hope that this Life jacket I'm serving may one day be taken off. I am so humbled by what you are doing and have already done on my behalf."
The entire story will be shown during the season finale of KUWTK, which airs on Sunday night at 9 pm on E!. Alice's commutation is President Trump's sixth act of clemency since he took office and the second case after a celebrity appealed to him.
Earlier in the year, Jack Johnson got clemency after Sylvester Stallone brought the case to the President's attention.
Jack was the first American world heavyweight boxing champion, but when he crossed state lines with his white girlfriend a 100 years ago, he violated the 'Mann Act' and got convicted by an all-white jury. By getting President Trump to sign his pardon, his name got cleared, even if it's 71 years after his death.
In 2016 Alice wrote a piece about her time in prison, how she got there and how it felt. When first convicted she made a pact with herself never to give up hope.
Even when she was not on the list of those pardoned by Barack Obama a week before Christmas in 2016 she stayed strong. Thousands of inmates just like Alice got given mandatory and lengthy prison terms after committing crimes under financial distress.
For her crimes, Alice got given a death sentence in 1996 without sitting on death row. Her hope finally manifested into reality early in May this year when Kim advocated on her behalf.
Astonished by the outpour of support at over 200,000 people that signed a petition supporting her release, the straw of hope she held onto became more tangible. And then, after 21 years in prison, she got pardoned.
Her life before prison was good for a while, she was a mother and wife, but her relationship with her husband came to an end in 1989 after a long and tumultuous union. Shortly after her son died in a motorcycle accident, a turning point in her life.
Admittingly she made poor choices in the time that followed out of grief and desperation, and it landed her in prison for 21 years.
During her time in prison, Alice had become an ordained minister, and mentor to the young women in prison and plan on continuing to help those in jail after her release.
Please fill in your e-mail so we can share with you our top stories!