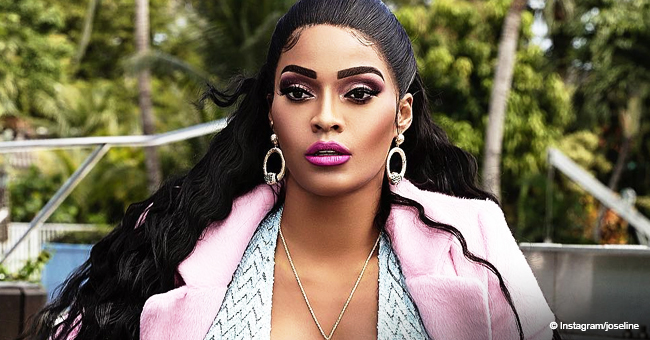 Joseline Hernandez Heavily Slammed for Dressing Bonnie Bella in a Bonnet in New Photo
Joseline Hernandez can't catch a break from critics who are always hating on the way she dresses her daughter, Bonnie Bella. The reality star was recently slammed for putting a bonnet on Bella's head, as people believe the look makes the girl look "like an old lady."
From her dresses to her hairstyle, fans always have some issue when it comes to Bonnie Bella's outfits. Although Joseline Hernandez ignores the negative comments, they don't seem to be going away anytime soon.
In one of her most recent Instagram posts, the proud mom photographed her 2-year-old daughter cutely sitting like a lady on a white sofa next to a pillow with the word "thankful" on it.
Bella rocked a white dress with flowers, sandals, and a matching bonnet, as she gave the camera a shy smile.
Although some people find Bonnie's style adorable and praise Hernandez for dressing her girl in age-appropriate clothes; others believe the style is outdated and Joseline needs to step up her fashion game.
MIXED REACTIONS
"This look is So Dated! You can still dress her like the cute little girl she is, without the daily Easter Sunday looks & what's up with that big azz necklace?" wrote one user.
Another added, "Girl take that s**t off her head."
And a third one agreed, "Girl why in the hell do you have a bonnet on her head that s**t makes her look like an old lady in a child's body."
Others came to Joseline's defense, like one fan who said:
"I love that you dress her like a lil girl. I know she wears designers I just like the fact you don't dress her like these other celebrities dress their children. Other celebrity kids walking around Gucci down to the socks and they can't even walk yet. You're doing a great job Joseline. @joseline."
And another added,
"I love how you dress her like the CHILD she is that's ALL that matters. GOOD JOB JOSELINE."
JOSELINE COMES FOR STEVIE J
Last month, Hernandez made headlines for slamming her baby's father, Stevie J, once again.
The former "Love & Hip Hop" star has always taken issue at Stevie's absence from their 2-year-old daughter's life. Last year, she told Bossip that apart from not getting regular child support payments from him, he hadn't seen Bonnie Bella in five months.
So, when Stevie got cocky on the comment section of Tamera "Ty" Young, the woman Stevie's other ex, Mimi Faust is currently seeing, Joseline had to jump in action.
Ty shared a photo with Mimi and Stevie's daughter, Eva, and the music producer commented: "Y'all should adopt."
Upset with the 47-year-old's behavior, Ty hit back saying:
"So, you made at me [because] you left your baby mama #4 and daughter are loved? Be bad if I'm mistreating your daughter not mad [because] she's loved and getting the attention she needs as a child."
And continued,
"My ovaries work fine though I'll carry our new baby and Eva will have a sibling in the house. And you can continue to be an Instagram daddy and ONLY spend time with Eva when you have to film for TV like you been doing."
Seeing a window of opportunity, Joseline added a comment stating:
"And not too [sic] mention he has not seen Bonnie Bella [their daughter] for 1 year. Faith pays her child support. And he did not even buy anything or call Bonnie Bella for her birthday. But maybe one day he will change. I'm keeping my hopes up. Every kid needs their parents. But I'm like this."
Stevie and Joseline battled in court over Bonnie Bella's custody and finally reached an agreement in April 2018, but their relationship was never repaired.
Please fill in your e-mail so we can share with you our top stories!