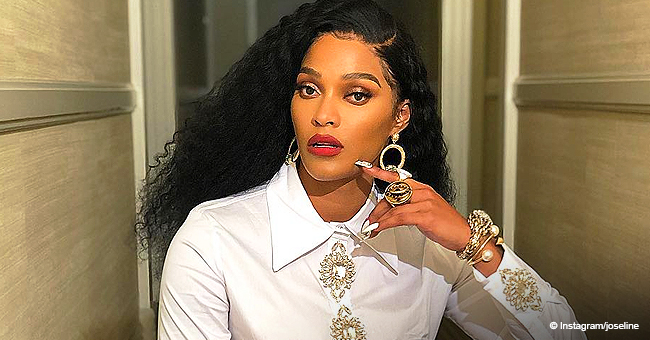 Joseline Hernandez Dragged for Dressing Daughter in Pink Dress & Unicorn Hat for School in New Pic
Former "Love & Hip Hop: Atlanta" star, Joseline Hernandez, is receiving backlash for the way she dresses her daughter, Bonnie Bella. Some fans believe the girl looks like "a mess" and say Joseline is not trying to fix that.
Joseline Hernandez can't catch a break from haters on social media.
The 32-year-old mom is continually getting negative feedback about the fashion choices she makes for Bonnie Bella, her daughter with Stevie J.
In one of her most recent Instagram posts, Joseline captured her daughter getting ready for another school day wearing a flowy pink dress, polka dots thighs, pink shoes with a bow, and a unicorn hat.
Bonnie posed next to her drums, holding a yellow ball in her hands and offering a cute smile for her mom's camera.
"School flow!" Joseline captioned the adorable shot.
And while some people found Bella's outfit adorable and age-appropriate, others have come forward to ask Hernandez to step up her daughter's fashion game.
"Why she always dress like that ?? Stop taking care of yourself and being naked all the time and start to take care of her," wrote one user.
Another added, "Why do she be dressing that poor baby like this @joseline. You need to get a fashion designer to help you dress this child hunni."
And a third one agreed,
"I don't mean no harm, but this is all the way wrong. @joseline baby, you don't dress like that so why are you dressing her like she is f****ng homeless or some s**t. Baby please do something about it."
However, most people came to Joseline's defense, praising her for dressing Bonnie like a little lady and encouraging her to mute the haters in her comment section.
One fan pointed out:
"Thank you @joseline. For dressing your baby like a little girl is supposed to dress. I think some have forgotten the way it's supposed to be. They let their kids wear s**t and have them dressing grown as hell... I love the way you dress her much respect to u. And disregard the negative comments."
And another agreed, "I so love how you dress your princess. All that a little girl should be, no bow is too big. No dress is too frilly, in a world so consumed with negativity, the colors, flowers, patterns are beautiful."
Joseline, who will star in her reality show, "Joseline Takes Miami" this year, welcomed Bonnie Bella in 2016, a few months before officially ending her tumultuous relationship with Stevie J.
The Puerto Rican princess has been focusing on taking her career to another level to provide for her daughter, and even with all the critics she gets, Joseline has stayed on her goal path.
"You know, I think when you become a mother your whole life changes because now you have to care for another person," Hernandez said in 2017. And continued:
"Everything that I went through in my life, I want my daughter not to have to go through. I think that becoming a mother makes you focus so much more in your business."
After winning Bella's primary physical custody, Hernandez moved to Miami with the girl. And a few months ago, she revealed that Stevie J hasn't seen their daughter in over a year, and also that his new wife is paying for child support.
"But maybe one day he will change," she said. "I'm keeping my hopes up. Every kid needs their parents. But I'm like this."
Please fill in your e-mail so we can share with you our top stories!