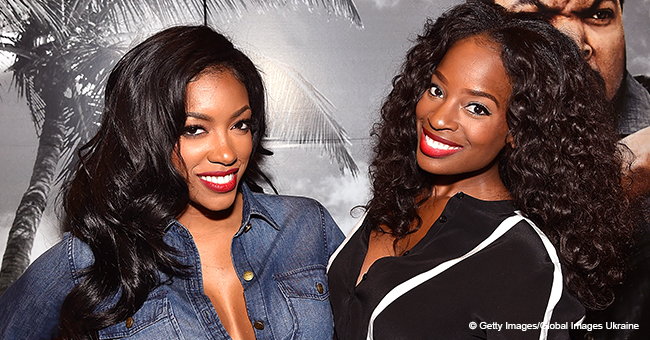 Shamea Morton Cuddles with Porsha Williams' Daughter in Sweet Pic as They Meet for the 1st Time
Porsha Williams' weeks-old daughter has an Instagram account and one of its more recent entries features the first time she met her mom's best friend, Shamea Morton. Their photo reveals they instantly connected.
Porsha Williams' daughter, Pilar Jhena is barely two weeks old but she's already making her presence felt on social media. In her own Instagram account, Pilar welcomed her aunt Shamea Morton who she recently met for the first time.
Shamea was introduced to her friend's newborn on April 2 and the brand new mom made sure to document it. In the pic Porsha shared on her daughter's behalf, Shamea is seen carrying Pilar, dressed in a pink tutu and polka dot pants and who seems to be resting comfortably against her aunt's midsection.
Pilar also met Shamea's four-month-old daughter, Shya Mwangi who Porsha suspects will be her daughter's future BFF due to her closeness to the Atlanta Hawks in-game host.
"Snuggles with TiTi Mea @shameamorton !" Porsha captions the pic for Pilar. "Yesterday I met my bestie @princessshya can't wait kiki with her again soon lol."
Since welcoming Pilar on March 22, Porsha has been sharing her baby's life journey to the little girl's 51,000 Instagram followers. Though she has yet to reveal Pilar's face, her posts are a reflection of the child's day to day activities which include bonding with her and the baby's father, Dennis McKinley. It also showcases her stylish outfits taking after her equally stylish mother.
Pilar's journey while in her mother's womb will also be featured in a spinoff episode of "Real Housewives of Atlanta." Porsha recently announced the one-episode special, "Porsha's Having A Baby" which documents the days leading to her daughter's birth. It will be aired on April 28 after the "RHOA" reunion.
Porsha, 37, is reportedly loving every minute of motherhood. It was a long road before she got here after suffering several miscarriages in the past. Now that she's a mother for the first time, she now feels complete, according to a source who spoke to Hollywood Life.
"Her maternal instincts have already kicked in and she's so caring and protective over baby PJ," the source revealed.
Please fill in your e-mail so we can share with you our top stories!