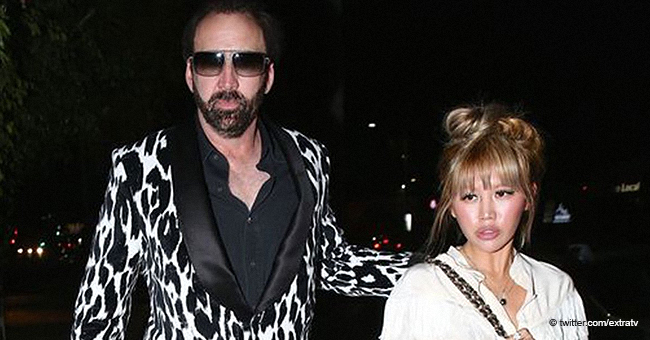 Nicolas Cage's Ex-Wife of 4 Days Reportedly Has Previous Convictions – Including 2 DUIs
Nicolas Cage presented on Wednesday a request for cancellation of the marriage license he had processed last weekend, according to People.
The actor has backed off and has finally requested an annulment of the marriage just four days after tying the knot in Las Vegas with his girlfriend from a little over a year ago, Erika Koike.
As reported by The Blast, the new bride had a criminal record; two charges for drunk driving and one for domestic violence, something that Cage supposedly ignored until after the marriage, which would have caused him to regret his decision.
Cage was captured during a strange scene while processing the license last Saturday and according to the latest reports, the couple decided to get married right then and there.
Four days after the wedding, the actor argued before the judge that the marriage was a fraud and that the differences between them are irreconcilable.
In the video that featured the famous and professional make-up artist holding a loud conversation in the Clark County courthouse, the actor could be heard accusing his wife of having a possible ex-boyfriend drug dealer and predicting that she would take her money after the wedding.
According to People, an eyewitness told the actor was "very out of place" and "probably very drunk" that night in Las Vegas. "She's going to take all my money," says Cage in the video, to which Erika Koike replies, "Baby, I'm not asking you to do this."
The first images of the couple were published in April 2018, while they spent a few days in Puerto Rico, where the actor was involved in the filming of a new movie. After that first appearance, they have been seen on more occasions enjoying time together in Los Angeles.
At the moment we do not know much more about the makeup artist but if Nicolas Cage had not decided to cancel his marriage with Erika Koike, she would be his fourth wife.
The most recent was her wedding with Alice Kim, 35, in 2004, and from which she parted in 2016. Before that, the interpreter was married Lisa Marie Presley, 51, for a little over three months in 2002. And his first wife was Patricia Arquette, 50, from 1995 to 2001.
Please fill in your e-mail so we can share with you our top stories!