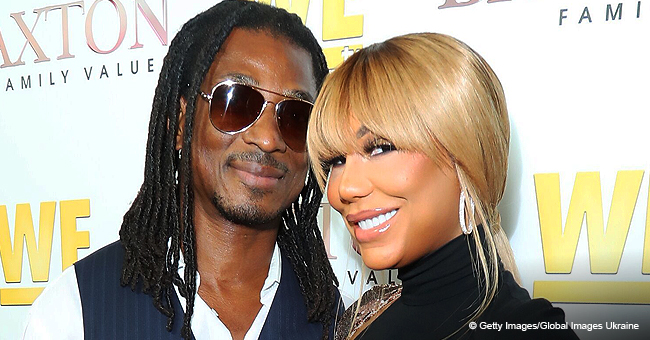 Tamar Braxton Explains What Led to Breakup with Her Nigerian Boyfriend
42-year-old Tamar Braxton opened up about what motivated the split with David Adefeso during a romantic getaway to Napa Valey.
Tamar Braxton's fans could be excused for feeling dizzy at the merry go round of the "Celebrity Big Brother" winner's love life.
Shortly after finally going public with her new relationship, Tamar announced it was over - but now it's back on again. Or is it?
"Right now, we're just really enjoying each other," Braxton tells ET. "[We're] having an amazing time getting to know each other."
TAMAR BRAXTON'S NEW LOVE INTEREST
Not long ago, Tamar, 42, was hinting at a hot new man in her life - but keeping his identity under wraps.
Then she decided to introduce her new boyfriend to the world, 49-year-old David Adefeso. And then, she broke up with Adefeso after a weekend in Napa Valley, supposedly a birthday celebration for Tamar and her sister, Traci.
Tamar confessed that the break-up had been a momentary thing, and that the couple is now back together
WHO IS DAVID ADEFESO?
Fans may be keen to know more about Tamar's mystery man, and the question on everyone's mind is "Who is Davis Adefeso?"
Tamar revealed that Adefeso is a Harvard Business School alum, and the Chief Executive Officer of The Pacific Group.
ON THE RED CARPET WITH DAVID ADEFESO
The break up seems to be off since Tamar stepped out at the red carpet event for the new season of "Braxton Family Values" with Adefeso, and the two seemed very much in love.
OFF AGAIN/ON AGAIN WITH TAMAR BRAXTON
Tamar confessed that the break-up had been a momentary thing, and that the couple is now back together - and she has even introduced Adefesa to her son, Logan:
"Well you know -- ahem -- we was in Napa, it was a lot of wine happening. I was in my feelings, and we broke up for, like, 20 minutes. But now we're back together, stronger than ever."
Tamar shares Logan, 5, with record executive Vincent Herbert, whom she married in 2008. Tamar filed for divorce from Herbert in October 2017.
TAMAR BRAXTON'S DIVORCE
Tamar Braxton divorced Vincent Herbert amid rumors of domestic abuse, although the singer cited "irreconcilable differences" as the motive for the split:
"Here is the thing, it's not that Vince is a horrible person. I'm just ready to move on with the next chapter of my life. That's where I'm at."
Tamar admitted that their relationship was "toxic," and that their divorce would hopefully allow them both to be happy apart.
"We want to make it work, and Logan is such an amazing kid that he deserves to have amazing parents to get along enough for him. And that's what we do."
Tamar has refused to comment on the future of her relationship with David Adefeso, and revealed that she is not yet ready to get married again.
Please fill in your e-mail so we can share with you our top stories!