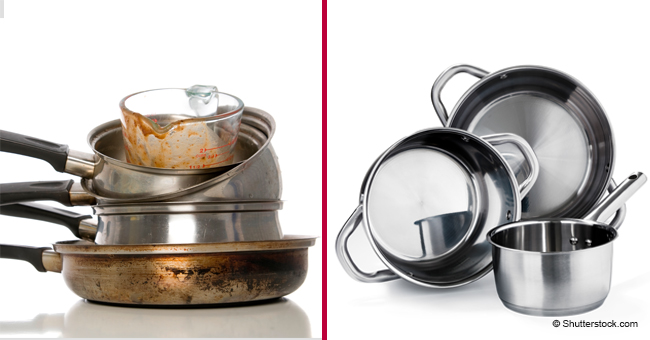 Here's How to Remove Old Grease from Kitchenware Quickly and Easily
Over time, we find that our kitchenware has racked up a set of grime and dirt, and it tends to stick onto our once-spotless pots and pans no matter how hard we try to scrub it off.
Instead of putting a discolored pan on the backburner (not literally), there may be something you can do to make a perfectly usable pan as good as new.
Here's a recipe for cleaning your cookware that is sure to help you keep your kitchen spotless.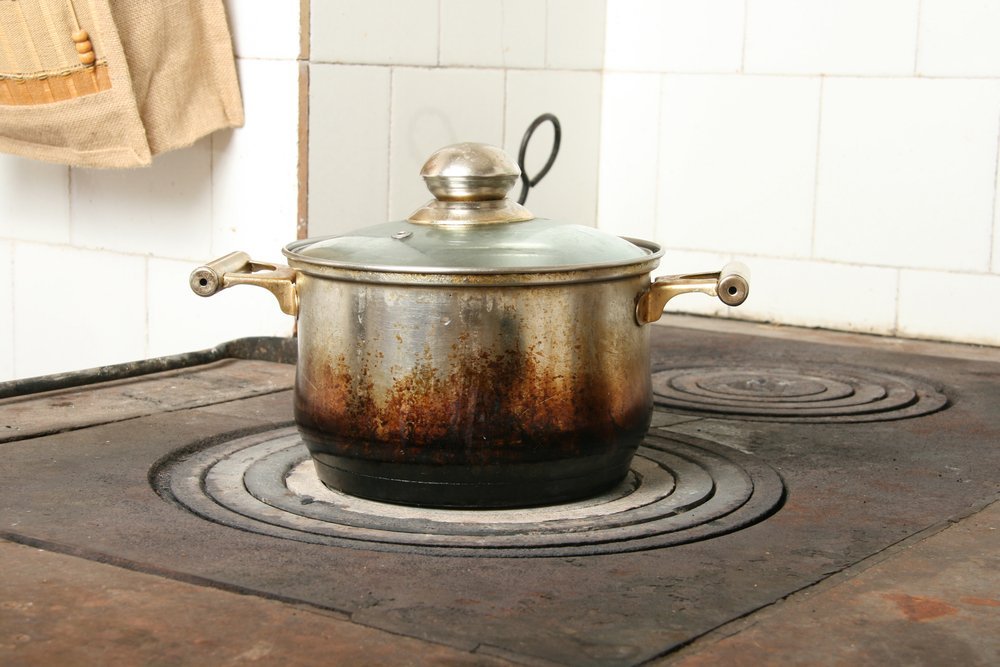 Dirty pan on a stove | Photo: Shutterstock
Ingredients:
3.5 ounces or 100 grams of sodium carbonate.
3.5 ounces or 100 grams of silicate or paper glue.
3.5 ounces or 100 grams of mustard powder.
1.3 galls or 5 liters of water.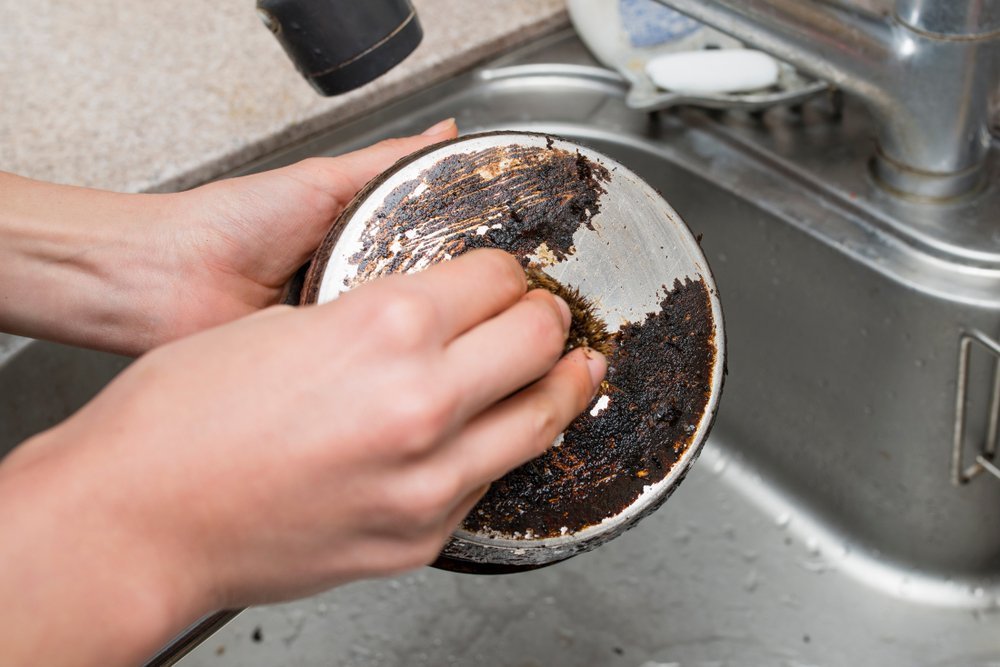 Hand cleaning underneath a dirty pot | Photo: Shutterstock
Steps:
Don a pair of heat-resistant or rubber gloves and keep an oven glove nearby.
Pour the water into a large pot and heat it up. The pot should be bigger than the one you intend to clean.
Add the ingredients listed and let the water reach boiling pot.
Keep the heat on while adding the stained kitchenware to the mixture. Leave it in for a few minutes.
The softened grease can now be easily removed using a kitchen knife or a metal sponge.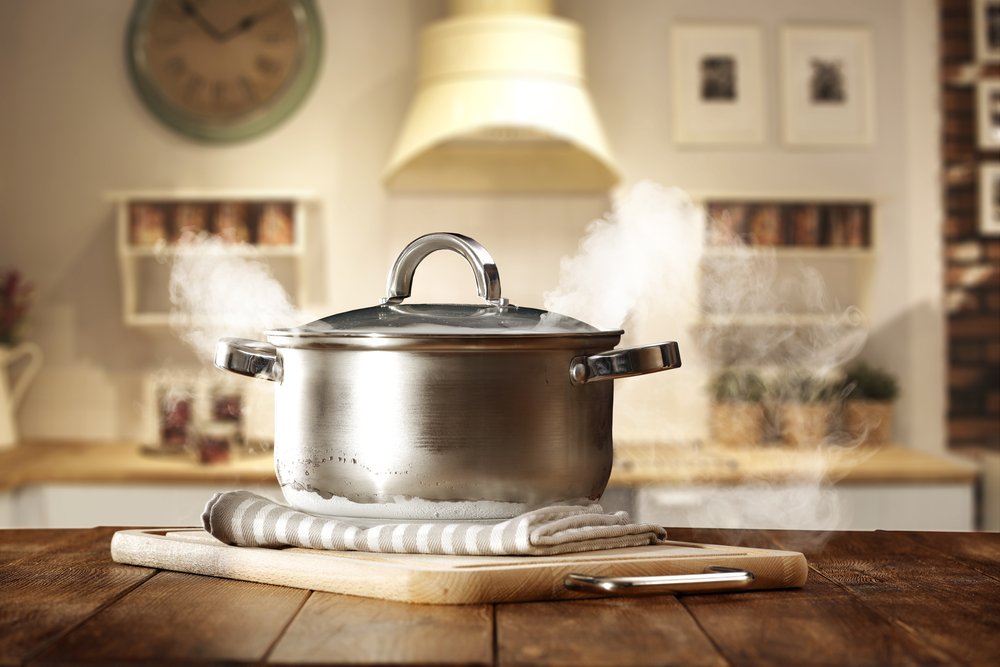 Clean pot on a kitchen counter | Photo: Shutterstock
When you're all done, enjoy your reflection as you look at your shiny old pans.
As you work on improving one area of your kitchen, feel free to follow these tips to help keep your entire kitchen clean.
The first is to keep your counters as clear as possible. Not only does it look better, but it also allows you to get right into cooking when you're ready. The second tip is to clean as you cook. While waiting for something to boil, feel free to wipe down the counter, wash up, or put things away.
A third kitchen tip is to wipe up the sink right after you do wash the dishes instead of leaving it for another time. In like fashion, a fourth tip involves cleaning up spills right away so it won't get sticky and more difficult to clean later on.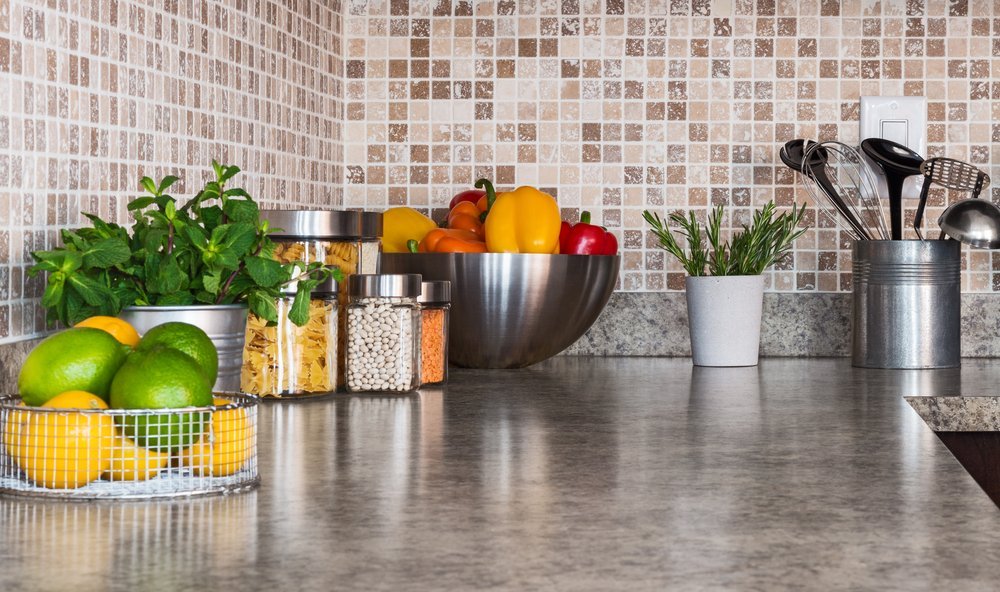 Clean kitchen counter | Photo: Shutterstock
Another tip is to keep a compost heap in the kitchen for food scraps. For everything else, make sure you have a designated space. And if you can't remember all that, make a schedule for everything you need to get done in the kitchen.
Of course, our whole house needs to be kept clean if we really want to live our best lives. A few more ideas you can try around the house are: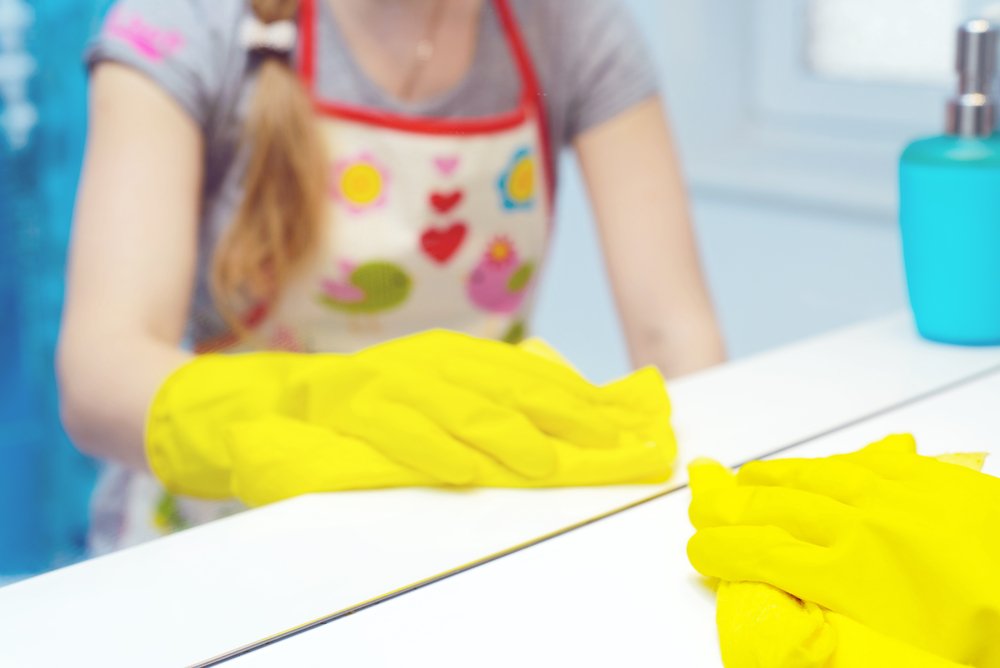 Woman cleaning a bathroom | Photo: Shutterstock
Clean your shower head using distilled white vinegar by tying it in a plastic bag and wrapping it around your shower head.
Remove grime from your tub with the help of grapefruit and salt. Add some salt to the cut grapefruit and rub it all over your tub.
Clean glass cookware by taking a ball of aluminum foil and scrubbing the dirt off until the container is clear.
Get rid of carpet stains using a spray bottle filled with water and vinegar in a 2 to 1 ratio. Spray the dirty spot and then put a damp rag over it. Next, run a hot iron with a steam setting on it for about one minute.
If you have leather furniture, use shoe police to get it back to its original pristine form. All marks will be gone, and you'll be left with some clean and comfortable seats.
House cleaning life hacks are the best way to go to keep you and your family breathing a little better in a dirt-free, hopefully spotless home.
Please fill in your e-mail so we can share with you our top stories!