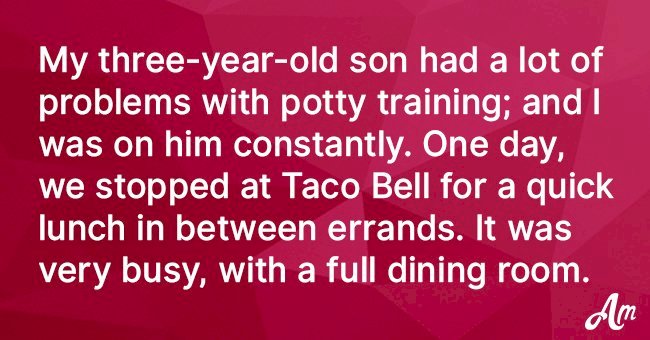 Young Child Embarrasses Senior Man's Mother

Children are known to say amusing things at times. The joke gets even better when they say them in public places like what happened to one mother.
A mother of two, one seven-year-old girl and one three-year-old boy, experienced a funny situation with her son.
Her youngest child was experiencing problems with potty training, which made it tricky to take him out in public.
FUNNY FARTS
While running errands one day the mother and her two young children had lunch at Taco Bell. Due to the lunch hour rush the restaurant was full, with almost every table occupied.
Halfway through the meal the mother smelled something stinky and thought that maybe one of her children had an accident. She first checked her daughter and found nothing.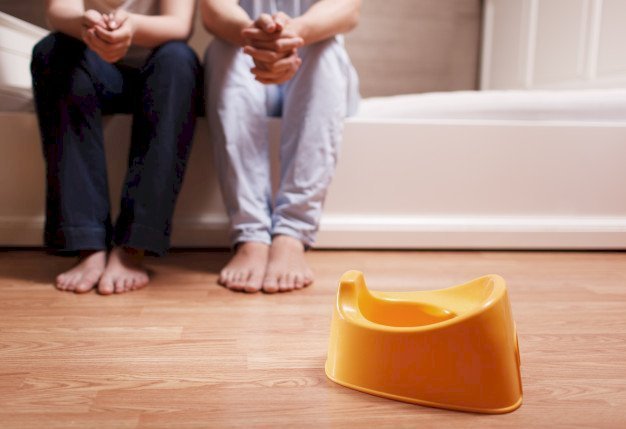 Mom and dad in front of a potty seat | Source: Freepik
After checking her son and also finding nothing, the boy proceeded to pull down his pants, bend over, and pull apart his butt cheeks and told his mother that he only farted, hence the smell.
This caused most of the other diners to laugh at the family. One senior man approached them afterward and said:
"Don't worry son; my wife accuses me of the same thing all the time… I just never had the nerve to make the point like you did."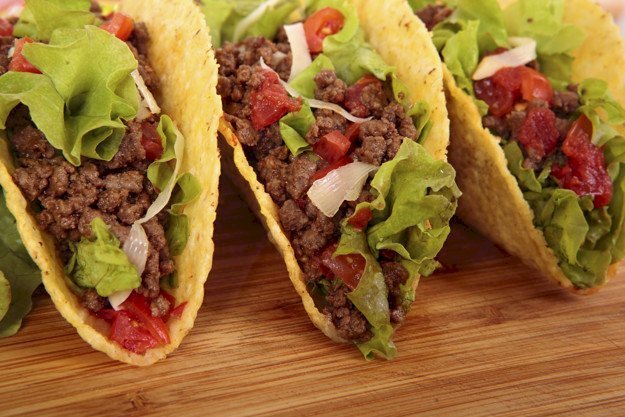 Tacos | Source: Freepik
SPEED OF SOUND
While farts have a pungent smell, their sound is also an integral part of knowing that they have happened. Therefore deaf people experience farts differently.
Anna Trupiano, a first-grade teacher at a school for deaf children, had to explain to her students what a fart is as they suddenly smelt one of their classmates pass one but heard nothing.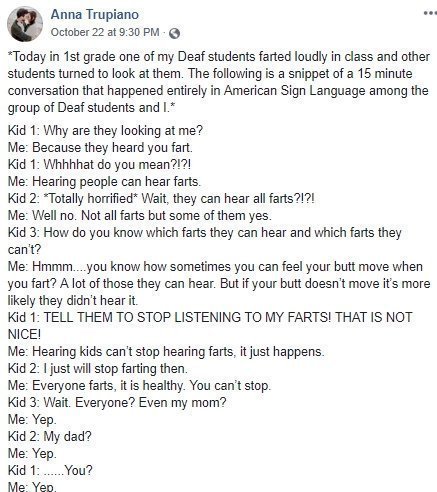 Anna Trupiano's story | Source: Facebook/Anna Trupiano
She taught her students about farts in such a way that normalized them and made them aware that they can be heard by hearing people.
She posted about this exchange on Facebook, and the post has gone viral with over 22000 likes. The post has also be shared thousands of times.
Please fill in your e-mail so we can share with you our top stories!