Miranda Lambert Said She 'Got the Hell out of Oklahoma' Reportedly Shading Her Ex Blake Shelton
Country singers, Miranda Lambert, and Blake Shelton have been divorced for nearly four years. Both of them have since found love with Lambert marrying early this year.
However, it doesn't seem that has stopped Lambert from taking a dig at her ex-husband while performing at the 2019 Academy of Country Music Awards.
On Sunday, Miranda Lambert had the chance to perform several times at the 2019 Academy of Country Music Awards (ACM). For one performance, the country musician wore a sexy lack, Bao Tranchi sequined jumpsuit.
The artist sang a high energy rendition of her single "Little Red Wagon." However, one thing was different from the performance - the singer changed a lyric in the song.
The track originally has the line, "I live in Oklahoma." That was where Lambert stayed with ex-husband and fellow country singer Blake Shelton, 42, when they were married.
"A hit isn't a position on a chart, it's what people sing along to. Thanks for being on this ride with me."

Sing along with Miranda this fall on the #RoadsideBarsandPinkGuitars Tour! https://t.co/8UlLqxjj3P for info - Team ML pic.twitter.com/SBzhfARTQl

— Miranda Lambert (@mirandalambert) April 8, 2019
Oklahoma also happens to be the place where Shelton was born and raised. However, for her performance, she changed the line to "I got the hell out of Oklahoma."
It's should be noted that this wasn't the first time that the singer has sung the line.
The fact @mirandalambert actually said I got the hell out of Oklahoma 😂😂👏👏 pic.twitter.com/Kgxa2FpWk0

— Lindale Tx Ran Fan (@Ranfan1997) April 8, 2019
However, most of the time it happened was during performances where Shelton wasn't present. It's believed he was there when she sang it this time and her new husband, Brendan McLoughlin, 28, was also present too.
Um, @mirandalambert you can stop cussing Oklahoma in your jabs at Blake...move on already. #ACMawards

— LauraVerser (@lverser) April 8, 2019
Also present for the performance was Shelton's longtime girlfriend and singer, Gwen Stefani. The two started dating after he got divorced.
Holy smoke show!!! @mirandalambert looks good!! 🔥🔥🔥🖤 BUT OMG her ex is in the crowd and she just shaded him by talking about getting out of Oklahoma 🙈🙈🙈 pic.twitter.com/s6bHN5zJff

— Diana (Nina) Scorza (@ninadonline) April 8, 2019
The song's Lambert chose for her medley at the event appeared to include break-up and lost love tracks. The star also sang "Mama's Broken Heart" and "Kerosene."
If @mirandalambert is over Blake why take that dig. Don't forget at one time he was your sun and moon and you sure did have huge success with a song he wrote. I guess people in Oklahoma shouldnt support you as well right. You just dissed the entire state.

— Misty Carroll (@Mistybucketlist) April 8, 2019
However, conflicting reports state that Shelton and Stefani might have already left the MGM Grand Garden Arena during the commercial break before Lambert took to the stage. Either way, viewers noticed and took to social media to share their opinions.
Others thought it was funny while another group felt Lambert shouldn't have thrown shade on her ex.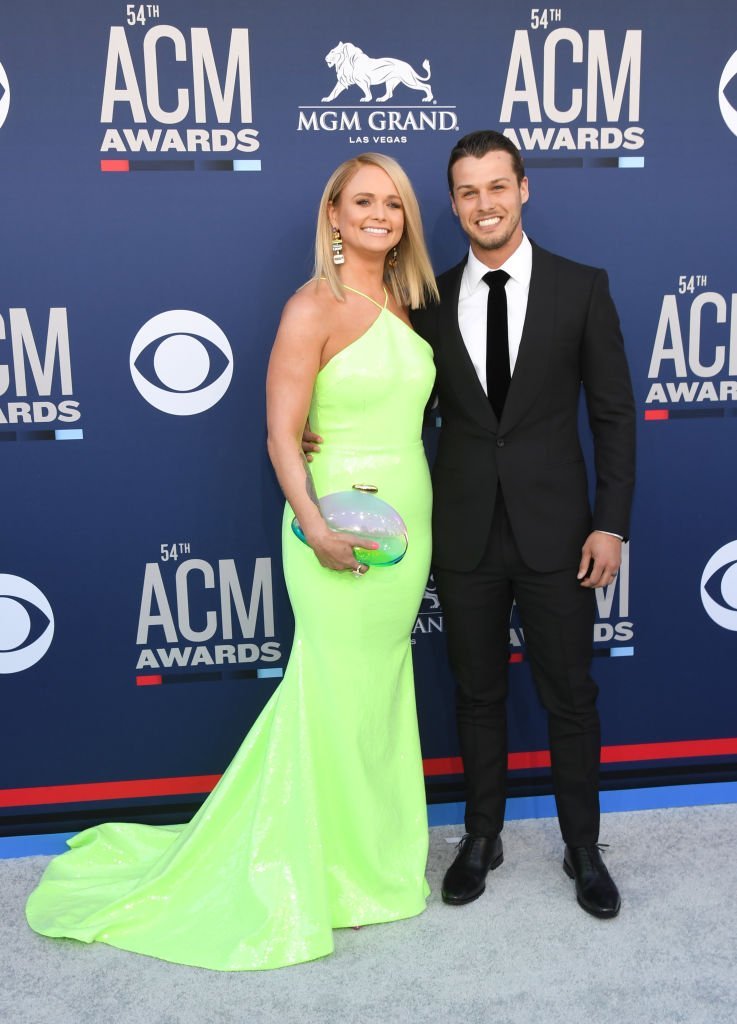 Lambert and her new husband made their debut public red carpet appearance together at the 54th annual ACM Awards in Las Vegas. The musician wore a curve-hugging neon green dress paired with a metallic clutch for the occasion.
Her husband kept things simple in a black suit.