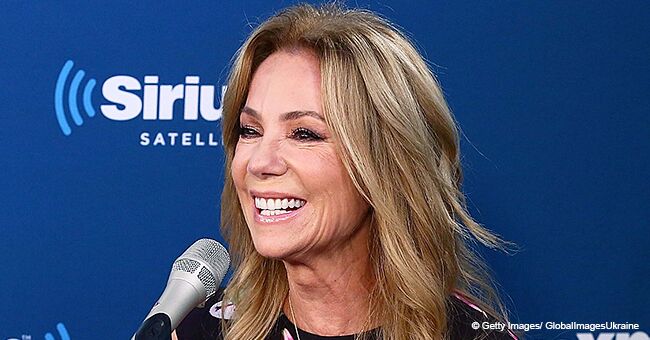 Kathie Lee Gifford's Kids Steal the Show on 'Today' with a Touching Video about Their Mom
Kathie Lee Gifford got a surprise video from her two kids sharing who their mom is to them, more than just a host. The TV anchor is no longer going to be with TODAY and will set foot to new adventures in her life.
As Kathie Lee Gifford's time on "TODAY" finally come to a close, her son, Cody, and daughter, Cassidy, paid a special tribute to the legendary host on her last day on the show through a video.
The video was shown at the end of the episode which had a performance by Barry Manilow, a guesting by John Cena, and a big surprise for every audience member -- a free cruise!
As the video started to roll, Cody began with a remarkable statement:
"To you mom is a TV legend, to us she is a legendary mom."
He further described Gifford as a generous and talented person who always sought the best for her children. His sister agreed and described their mom as being "one of the kindest people on the planet" -- a trait which was instilled in both of them growing up.
Cody also shared the best advice he has received from his mom:
"The best advice I've ever gotten from mom actually came from her father, Pawpop, and he had told her at a very early age, 'Find something you love to do and then figure out a way to get paid for it.'"
The advice was something that Gifford did and showed throughout her career. Her hosting shows how devoted she is to a job that she loves, and luckily, loves her back. Not only was this seen by her children, but by her late husband as well.
Cassidy recalled how her father would react whenever he would see her mom on screen, and it's just how every woman would want their husband to respond.
"I just remember in the last couple years before our dad passed away, if I was ever home and we're sitting watching Mom at 10 a.m., he used to just always say -- first he would say, 'Oh, by, your mom's so pretty!' - and then he used to always say, 'You know, there's no one else like her.' And he said, 'Who knows if there ever will be?'" Cassidy shared.
"There's something about my mom that resonates with so many people and has for so long, which is why she's still kicking butt doing what she's doing," she added.
As the video came to an end, Gifford and her co-host and close friend, Hoda Kotb, were caught up in tears. Shortly after, Cody stood up from the crowd and gave his mom a tight embrace, whispering:
"I love you mama. I'm so proud of you. Dad is too. I love you."
Unfortunately, Cassidy was not able to make it to the show as she had a taping for a series with her mom's friend, Roma Downey.
Gifford is blessed to have two beautiful children who love her and are in full support for the new journey in their mom's life; a journey which may include dating again. Gifford shared with PEOPLE:
"I had a friend of mine who asked me a couple of years ago after Frank passed, he said, 'Sorry, I guess Frank was the love of your life, right?'... And I said 'so far.' I was kind of surprised by my answer because it was like optimistic, so far."
"Love can happen at any time," she continued.
"And then he said, 'I've never had a love like that in my life.' I said, 'Not yet. I have, but that doesn't mean I can't have another one.' And he hasn't, but that doesn't mean he won't."
The long-time host also disclosed her plan to focus on her music career in Nashville, Tennessee.
"I just know that creatively, I'm an artist. Artists need to create, or they die on the vine and that was what was going to happen to me. I saw it happening and it was not healthy. And I said, 'I'm moving to this place where I've been going down every weekend and hanging out with those people,'" she explained.
"You walk down the streets and little towns in the Nashville area, there's church bells ringing."
While Gifford sets foot on a new adventure, her family, friends, and fans only wish her the best in love, life, and happiness.
Please fill in your e-mail so we can share with you our top stories!