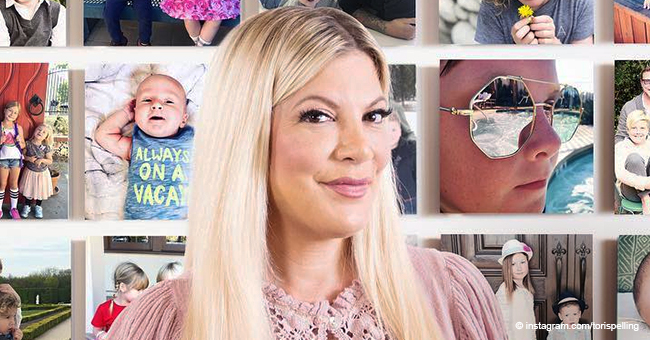 Tori Spelling 'One Step Ahead of the Haters' as She Shares Pics of Her 2-Year-Old's with No Gloves
With Tori Spelling constantly under fire from netizens, she made sure there was no room for negativity with her latest family update filled with "beautiful mountains, sun, and fresh snow."
Being the youngest of the five children brood, Beau celebrated his first time enjoying the snow. Having just turned two years old on March 23, he is old enough to enjoy frolicking in the snow, and by the looks of the pictures, that is exactly what the toddler did.
Tori posted a series of images with Beau dressed up in a warm hooded onesie smiling for the camera in different poses without wearing any snow gloves.
In anticipation of backlash regarding the gloves, Tori added a few extra words onto her caption that read, "PS- we put his snow gloves on immediately after capturing this adorable first moment in the snow ⛄️ (cause I know that will be the haters first comment ✅)."
Fans quickly commented words of support. "I'm so sorry that people have to be so hateful! You seem like a wonderful mom. Thank you for sharing with us," one Instagram user wrote while another fan added, "Love!!!?? And both of my kids would never keep their gloves on at this age; it's just how toddlers roll."
One can understand that Tori wanted to get "one step ahead of the haters" this time, as the internet trolls couldn't help but comment on pictures Tori posted of Beau's recent birthday.
Despite rumors surrounding their financial struggles, a determined Tori gave her son the celebration of his dreams.
Since his favorite spot is a family restaurant in Los Angeles called Giggles N Hugs, Tori arranged his party there complete with a music-themed cake.
Tori called it "the best and easiest place to host your kiddos birthday party in LA," and it even featured a Beau-inspired drinks bar for adults.
From the series of pictures, it was clear that Tori put a lot of effort into making it a special day for Beau and the actress captioned the slideshow with words of appreciation to everyone that made the day a success.
While many fans wished the little guy a happy birthday, the trolls couldn't help but do what they do best as one asked, "Who paid for it?" While another one wrote, "Way to stay within your means...pay your bills deadbeat!"
Comments about their finances come after a widely reported lawsuit made against Tori and her husband, Dean McDermott in December 2016. The couple failed to pay a $400,000 bank loan which ended in a default judgment that ordered them to pay $219,796.66.
Failure to keep up with their responsibilities had a Los Angeles Superior Court clerk sign a writ of execution on March 28, which gives the Sheriff's office the go-ahead to garnish Dean and Tori's earnings.
Tori also got ordered to pay $88,000 in American Express credit card debt in January after three years of unpaid bills.
Unfortunately, trolls not only spread hate but rumors as well, and with gossip that she and husband Dean are having "relationship problems" Tori reportedly broke the silence of what is going on in her marriage.
Please fill in your e-mail so we can share with you our top stories!