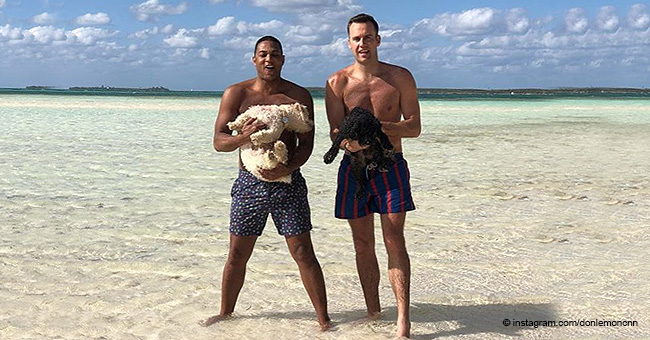 Meet Tim Malone, Don Lemon's Boyfriend Who Recently Proposed to the CNN's Host
Some might say that this weekend's news was long overdue as Don Lemon announced his engagement to Tim Malone.
The CNN anchor shared the news on Instagram Saturday along with a picture of the "present" Don got from Tim on his birthday. "How could I say no?" Don wrote as part of the caption.
The two poodles, Barkley and Boomer, looked dashing in their matching bow tie-shaped dog tags that read, "Daddy will you marry Papa?"
Real estate agent Tim proposed to Don after they celebrated his 35th birthday with friends and posted the same snap as Don on his Instagram account. Excited to share the happy news and show off the couple's ring, Tim wrote, "He said Yes!"
The couple started dating in 2016 but knew each other as friends for a while before they got together. They met in a restaurant in New York City, and the spark was there right from the start.
"He was seeing someone, and I was playing the field. They broke up, and we got together, but we knew each other as friends for a year and a half," Don said.
Don had previously found dating daunting and never felt sure why potential suitors showed interest in him. As a public figure, he questioned the motives of others, did they like him as a person or did "they think they're gonna get some sort of fame."
The fiery journalist spent years focused on his career and found that trusting people were challenging, and contributed greatly to Don being single for so long.
The couple shared a memorable moment in New Orleans on live TV as they rang in 2018 with a New Year's kiss.
And quite coincidentally, Don told CNN viewers at the same New Orleans bar during the previous year's New Year's broadcast that he felt "open to a relationship" and wanted to be "less self-centered."
Only later on would it come out that Tim was at that same New Orleans bar as Don as they celebrated the last moments of 2016, blissfully unaware that they would be engaged two years down the line.
As the recent attack against singer and actor Jussie Smollett headlined recently, it brought the little spoken about topic of black gay men to the forefront.
And with Don's insight as a black gay man, he discussed the difficulties black men face in coming out and why relationships with black men had previously not worked out for Don.
Please fill in your e-mail so we can share with you our top stories!