Gabrielle Union & Dwyane Wade Proudly Support 11-Year-Old Son Zion at Miami Beach Pride Parade
Gabrielle Union and Dwyane Wade went all out for 11-year-old Zion as he attended the Miami Beach Gay Pride on Sunday. While there has been no official statement on the young man's sexuality, folks may have missed the signs all along.
Less than a month ago, Dwyane came under fire for encouraging Zion's runway catwalk moment, but if the NBA player saw the negative remarks, he did not act it this past weekend as he showed off his son at the Miami Beach Gay Pride event.
The basketball star could not be physically present but took to his Insta Story with pictures. One shot was of Zion and his stepmom, actress Gabrielle Union, who has been married to Dwyane since 2014.
Zion proudly donned a yellow tank top and green shorts while wearing a tag made from the trademark LGBTQ rainbow. Gabrielle also looked casual in black "WADE" top and dark green shorts.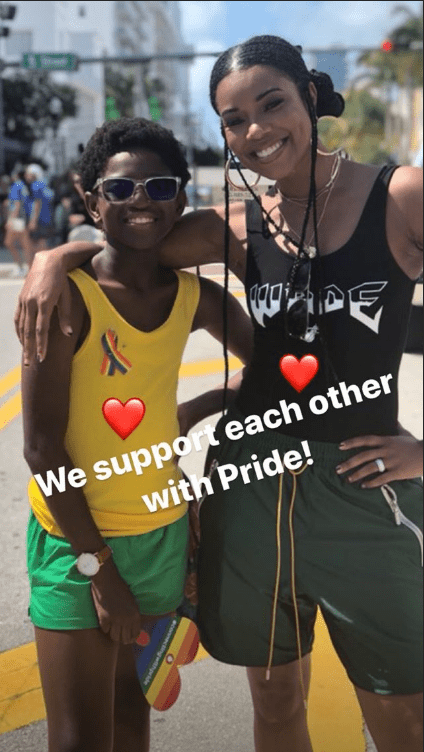 "We support each other with Pride!" wrote Dwyane, 37, across the image.
A Twitter user called it out at the time, but the topic didn't get much attention until a few weeks ago
In another photo, Zion can be seen surrounded by family including Gabrielle, 46, who held on to her five-month-old daughter Kaavia, and Zaire Wade, Zion's big brother.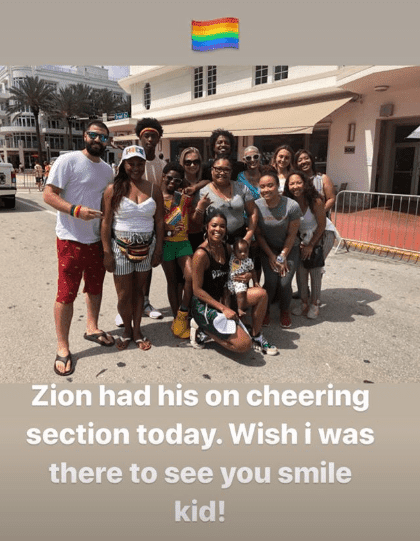 Dwyane's caption across the family shot read:
"Zion had his [own] cheering section today. Wish I was there to see you smile kid!"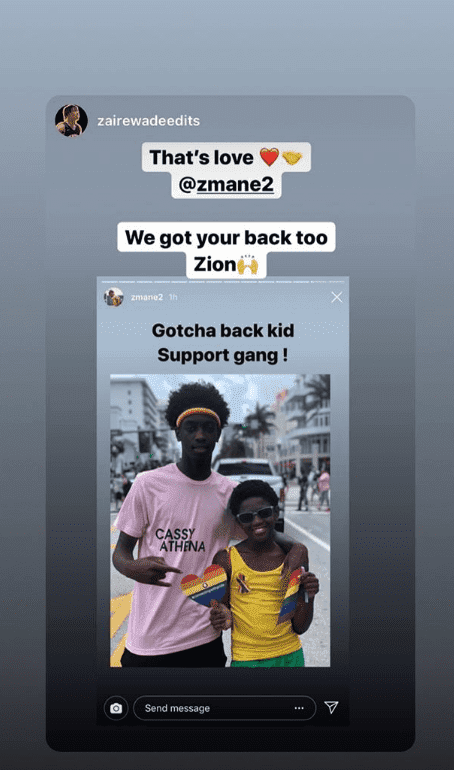 Young Zion also got support from Zaire, 17, who shared pictures of the pair and pledged his unconditional love and support. "Love you, lil bro, no matter what," he wrote across one picture, adding in another:
"Gotcha back kid. Support gang!"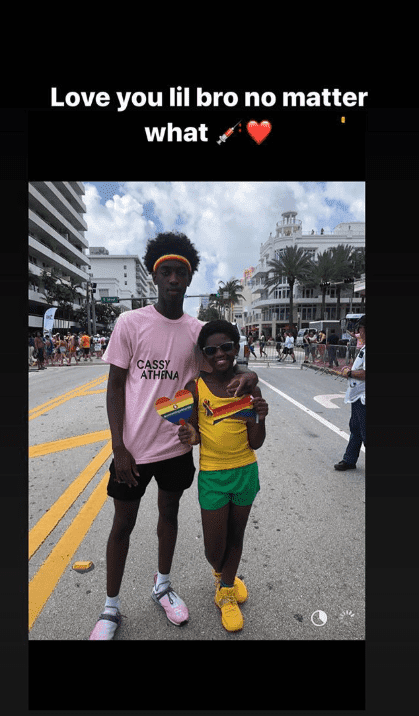 The Miami Beach Gay Pride, according to its website, is "a weeklong celebration with special events, social mixers, dance events, a VIP gala, an incredible 2-day festival, and Parade."
"The mission of Miami Beach Pride is to bring together members of the lesbian, gay, bisexual, and transgender community, their friends, allies, and supporters in celebration of the unique spirit and culture of the LGBTQ community."
🏳️‍🌈 LOVE is LOVE, we support you Zion! Dwyane Wade missed attending the Miami Beach Gay Pride celebration with his family. Despite being in Toronto, he sent lots of love to his son Zion Wade, 11, for expressing himself during the festivities! https://t.co/vOZKbxVdfT

— EBONY MAGAZINE (@EBONYMag) April 8, 2019
Neither Dwyane nor Gabrielle have addressed Zion's sexuality directly, but as far back as 2017, the actress reportedly included a rainbow emoji, known to symbolize gay pride, in a picture celebrating the young man's 10th birthday.
A Twitter user called it out at the time, but the topic didn't get much attention until a few weeks ago when Dwyane himself shared a video of Zion sashaying and twirling like a pro on the runway.
The clip raised a lot of eyebrows on Twitter where users did not hesitate to register their critical opinions, but Dwyane – and the Wade clan – does not appear to be moved by negative comments.
If that was hitherto not clear enough, with the latest Miami Beach Gay Pride photos, it is now.