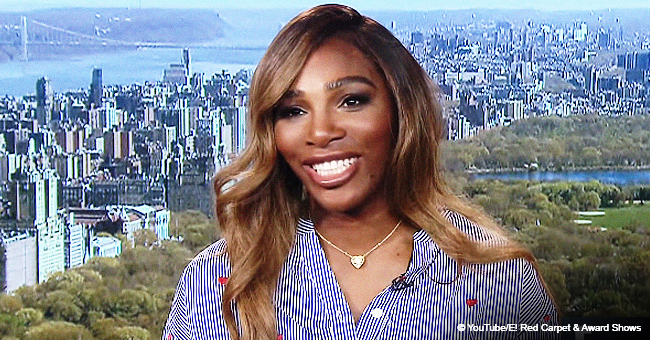 'Mom!!! I'm Working,' Serena Williams' Daughter Imagines Herself as President of the US in New Pic
Alexis Olympia Ohanian Jr. is going for president! American professional tennis player, Serena Williams's baby girl Alexis Ohanian posted a picture on her Instagram Page. In the photo shared below, the toddler is seen in what seems like a replica of the white house receiving a phone call.
In the image, beautiful Olympia could be seen holding the telephone to her ear and wearing what seemed like a stern or concerned look. The toddler replicated the role of someone busy and in control of a situation and her father hilariously captioned the photo,
"Mom!!! I'm working."
Fans took to the CEO's page to applaud the young girl and admire the image. One of the fans who commented (@abbyparker) hinted at how baby Olympia could be a better president than the current POTUS.
Alexis Ohanian is an American internet entrepreneur and investor. He is well known as the co-founder and executive chairman of Reddit. His wife, tennis star Serena Williams recently in an ad for Pampers spoke about her daughter being a "wild child."
Not all parents can handle a wild child, but Serena loves hers. In an interview with "Today," Serena shared how much she loves raising a "wild child." Referring to her daughter, she said,
"I love that my child is wild. I love that because for me it's a different word, it's like wild is great, why is wild a bad thing? She's curious, she is fun, she's learning different things, so for me, I love that she wants to explore and just kind of wants to be herself".
The mother also shared details of how her baby girl skipped the crawling stage and went straight to walking.
Serena's husband also gave tips in an essay he wrote for "Glamour" on how they maintain their happy marriage. Alexis spoke about how they create time for family despite their busy schedules. He also talked about how his dad made delicious breakfast every Sunday for the family, but it was not just about the food, it was about being together as a family.
"There are no phones, just conversation. And we'll spend the day together lounging around the house, or playing hide-and-seek, or going for a swim in the pool. Just being a family on those days means so much to both of us more than a billboard, a video montage, or a whirlwind trip to Italy." - Alexis said.
It is evident that the CEO and his legendary wife Serena have a loving family; one most people would want to share breakfast with every Sunday.
Please fill in your e-mail so we can share with you our top stories!