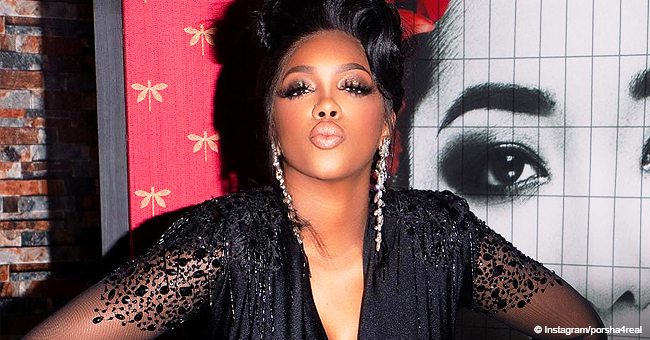 Porsha Williams Shares Her Natural No Make-Up Look with Baby Pilar Just 2 Weeks after Childbirth
Porsha Williams is leaving the glamour and pretenses behind as she fully embraces motherhood for the first time.
The "Real Housewives of Atlanta" star welcomed her first daughter, Pilar Jhena or "PJ," with fiancé Dennis McKinley on March 22, and now, two weeks later, it seems like the reality star got tired of pretending new moms are always glammed up and ready for the cameras.
The 37-year-old took to her Instagram stories to share a pic of her "new normal," showing off her natural look as she smiles with baby PJ resting on her arms. Porsha wore a gray top and a red headband that barely contained her natural hair.
"I officially don't care what I look like," she wrote in the pic. "She is the end all be all lol #obsessed #PjsWorld."
A capture of the lovely shot shared on The Shade Room earned mixed reactions from fans. Some praised Williams for showing the real side of motherhood, and others criticized her for not taking care of her image.
"This is what new mothers look like, exhausted, happy all in one...so what...still beautiful," wrote one user.
Another added, "Oh nooo hunty what are u doinnn! U may not care, but we do."
And a third one pointed out, "How y'all always encouraging females to be natural and then as soon as they are.. y'all rude."
Despite the criticism, Porsha is focused on enjoying every single moment with her baby, and although she's keeping Pilar's face off social media, she has shared several pics covering the baby's face and teasing eager fans who can't wait to meet their "niece."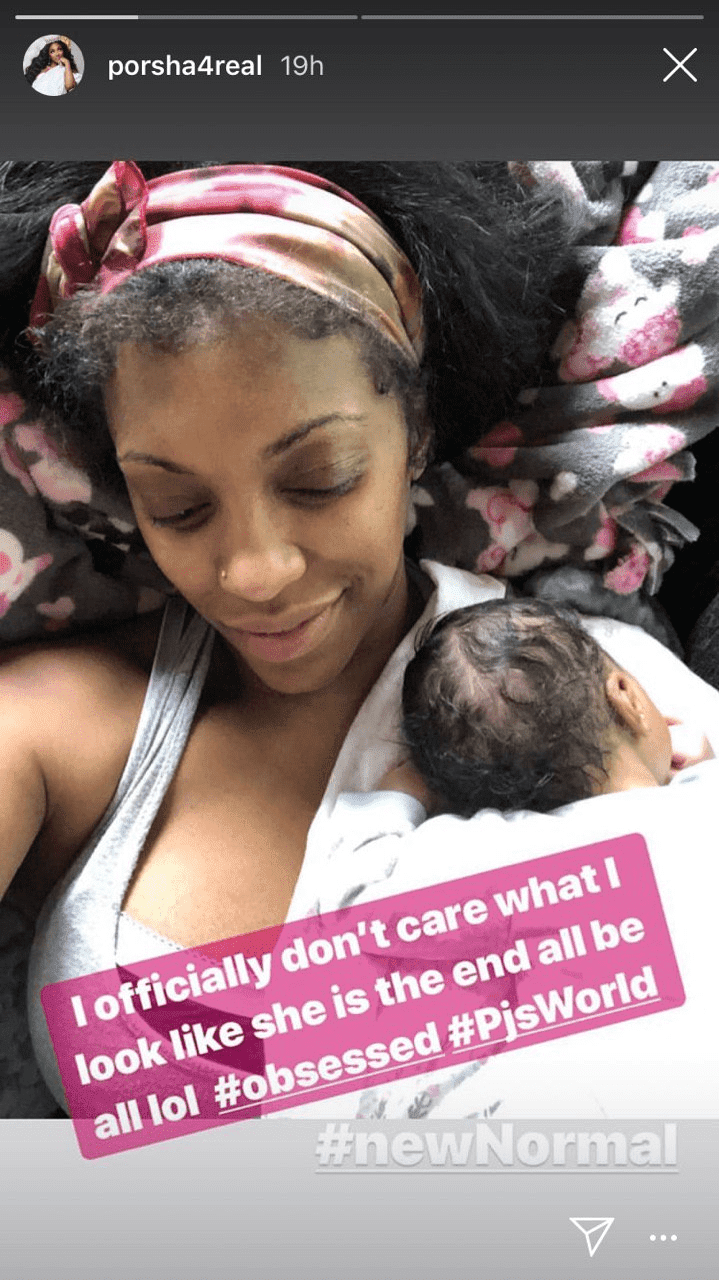 Porsha Williams shows off her natural look. | Source: Instagram/porsha4real
Although Pilar is not even one-month-old yet, she's already a social media star with over 73k followers on her Instagram account.
There, Porsha recently explained the meaning of Pilar's name, stating that it has its origin in the Spanish language, and is taken from the title of the Virgin Mary, María del Pilar, meaning "Mary of the Pillar."
She also shared a clip to show her fans how to correctly pronounce the name, revealing that her fiancé prefers to call their daughter just "PJ."
Talking to People last September, after announcing her pregnancy to the world, Porsha admitted that her baby's arrival would be meaningful because she suffered a miscarriage a few years ago.
"I've had a miscarriage before in my past, which I've also been open about because I suffer with fibroids and had to have a myomectomy," she said. "So just the fear of, 'Is the baby going to be okay? Will I make it full term?' All those questions that you ask if you've had a miscarriage before."
And continued:
"Going into the first appointment and being able to see [the] baby and hear [the] baby and know that baby is fine, then I can really wrap my mind around actually becoming a mommy."
Now, Porsha has all eyes on her as she goes into the journey of motherhood for the first time.
A Bravo special about her pregnancy, titled "Porsha's having a baby," is set to be released on April 28.
Please fill in your e-mail so we can share with you our top stories!