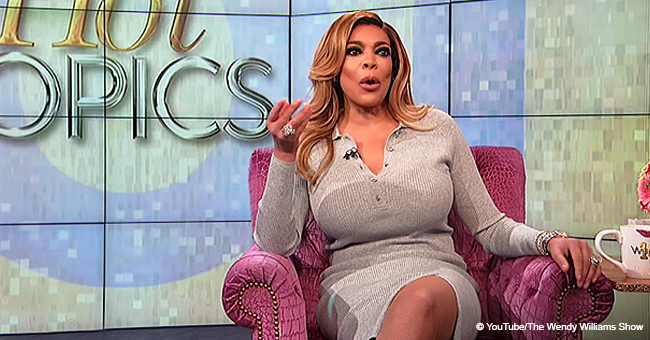 Wendy Williams Claps Back at Gossip about Her 4 A.M Visit to Walmart: 'There Is Such a Stigma'
Wendy Williams addressed her controversial Walmart picture that went viral over the weekend, explaining where she was when the photo was taken and how it came out the way it did.
The picture shows Wendy wearing a black turtleneck underneath a matching robe, with disheveled hair and a frantic look on her face.
Returning from a planned week-long break on Monday, Williams, 54, dove straight into the issue on her eponymous talk show.
"One of the best things about being truthful to yourself and truthful to you and having your own show is I can come and dispel my own rumor," Williams said before revealing that she went on a camping trip during the break with friends from the sober house where she's been battling addiction.
Williams and her friends went upstate to a small town known as Ellenville in New York, and it was there that the TV queen decided to enjoy some early morning Walmart shopping with her "girls." She said the staff let them use shopping scooters because there weren't many people in the store at the time.
The TV show host went on to share more pictures from her camping trip.
According to Williams, one fan approached her for pictures. "I said 'take a picture, and I'm gonna act like I'm shopping,'" she recalled.
The picture the fan took ended up blowing up on social media and the blogosphere. Williams added that she saw all the negative headlines:
"The headline was 'Poor, lonely, Wendy needs a hug.' Then it said 'She looked frail. She was by herself.'"
Williams countered the rumors, pointing out that she has Graves' disease which puts pressure behind her eyes and that the person who took the picture "caught [her] with an eye pop."
Addressing the speculations over her choice of clothes for the outing, she asked sarcastically:
"It was four 'o' clock in the morning in Ellen, New York. What do you want me to wear? A ball gown?!"
The TV show host went on to share more pictures from her camping trip. One was of her driving an ATV in the outdoors and in another, she posed with a gun.
Before ending the segment, Williams could not resist another sarcastic comment: "Thank you, Ellen, New York, and thank you blogs, do I look frail to you?"
Please fill in your e-mail so we can share with you our top stories!