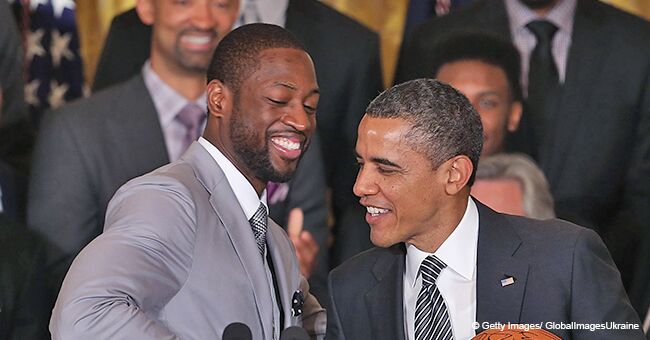 Barack Obama Pays Tribute to NBA Star: 'Saying Goodbye to a Career That You Love' Is Difficult
Barack Obama congratulated NBA star, Dwyane Wade, on his successful career and shared why he had to give up basketball.
How is it possible to find the right words to honor a 16-year legacy?
It is without a doubt that Dwyane Wade's farewell montage has not been short of gratitude in celebration of his legendary career. This 'One Last Dance' has given people from different walks of life to pay homage to the Heat legend, and this includes, none other than, Barack Obama.
The former U.S. president applauds the three-time NBA champion for an astounding career that continues to inspire many.
"D-Wade! Congratulations on a great run. Now, I know what you're going through because saying goodbye to a career that you love is never easy. I've been there. In my case though, I didn't really have a choice. My knees were shot so I had to give up basketball forever," Obama said, relating to Wade's career coming to a close.
He continued, talking about the contributions that Wade has given to the league, and the highlights of his career:
"You, on the other hand, look like you're still hooping out there, and I imagine it's a little tougher when you just completed one of the greatest careers in NBA history. For 16 years you've given us high-wire dunks, big shots in big moments, more blocks than any guard in history, you were willing to sacrifice your body in the lane and sometimes sacrifice your ego in pursuit of a title."
"Whenever you got knocked down you always showed us how to get back up. You showed some Chicago spirit in you, and you did us proud," he continued.
"From all of us who are fans of the game, we just want to congratulate you on an extraordinary career, a career for the record books. I hope the next phase of your life is just as fulfilling and just as spectacular as this one has been."
Wade went out in style in Tuesday's game against the third-seeded 76ers; turning the clock back as he dropped a game-high 30 points, leading the Heat to a 122-99 victory. The 13-time All-Star ended his legacy in a vintage performance, despite the failure to clinch a playoff spot in his final year in the league.
Obama has grown fond of the NBA, even meeting with another team, the Golden State Warriors, who visited the former president but refused to visit Trump.
Saying goodbye to a career is never easy, as Obama said. He, too, was in the same position as Wade a few years back when he stepped down from the presidential seat.
In an interview with Prince Harry of Wales, Obama shared his thoughts through the inauguration, saying that it was overwhelming gratefulness to those who have been with him through the journey and a sense of pride in helping make the country better.
"The first thing that went through my mind was, sitting across from Michelle, how thankful I was that she had been my partner through that whole process," said Obama.
"Now, that was mixed with all of the work that was still undone and the concerns about how the country moves forward. But overall there was a serenity there more than I would have expected."
He also related his term as president to that of a relay runner:
"If you ran hard and you did your best, and then you were able to pass that baton off successfully, with the country or the world a little bit better off than when you got there, then you could take some pride in that, and I think that we were able to do that."
Obama, like Wade, left a legacy in his career as America's president. Although he is now an ordinary citizen, he will forever be known as one of America's legendary presidents.
Please fill in your e-mail so we can share with you our top stories!