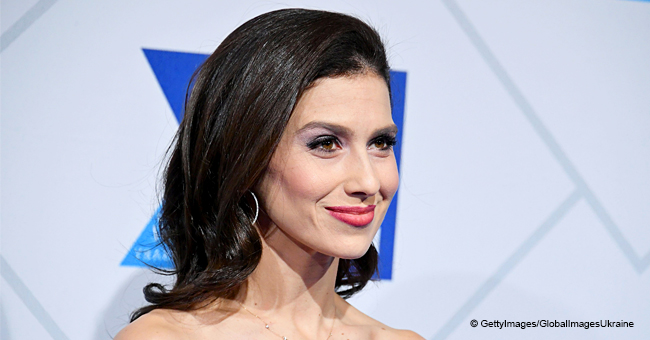 Hilaria Baldwin Shares First Photos from the Hospital: 'It Went Well'
Hilaria Baldwin shared new photos during what is thought to be a D&C appointment as she continues to embrace transparency regarding her miscarriage.
The pictures comes a day after Hilaria confirmed on Instagram that "it's over" as her scan showed no signs of a heartbeat.
The 35-year-old posted two images on her Instagram Stories, in the first image Alec Baldwin posed with Hilaria as she captioned it, "Doing this. Wish me luck."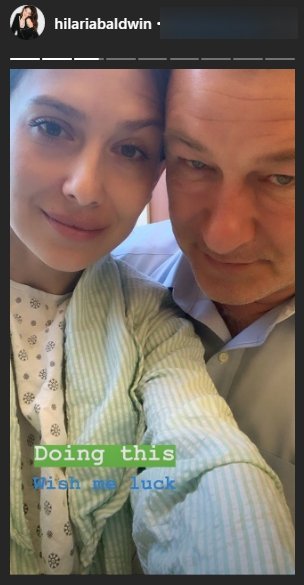 Hilaria and Alec Baldwin. | Source: Instagram/hilariabaldwin
The second update she posted about an hour and a half later with a selfie of her in a hospital gown and a caption that read, "It went well. I'm awake. One foot in front of the other. Thank you for your well wishes."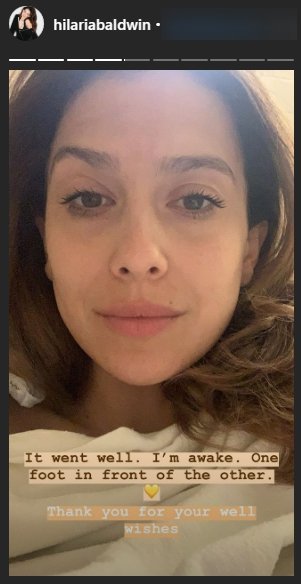 Hilaria Baldwin. | Source: Instagram/hilariabaldwin
When Hilaria confirmed the news on Tuesday, she expressed her gratitude towards everyone that offered their support and shared their personal stories.
"We are stronger together...I hope this conversation continues to grow and that we stick together through both the beautiful and challenging moments in life," she wrote.
During this difficult time, Hilaria chose to focus on the "amazing heartbeats right here," being her husband Alec Baldwin and their four children, 10-month-old Romeo, 2-year-old Leonardo, Rafael, and 5-year-old Carmen.
A
D&C
, also known as dilation and curettage, is a surgical procedure most often recommended to women at 10 to 12 weeks of pregnancy who miscarry or any patient who suffered an incomplete miscarriage.
Last week Hilaria shared that the "chances are very, very small that this is a viable pregnancy." She doesn't want to share things that are just "positive and shiny" but think it's "important to show the truth."
In an effort to be as transparent as possible she wants to remove the stigma from miscarriage and create further awareness on the subject, which is more often than not an unspoken about topic.
The day after Hilaria opened up about her then-suspected miscarriage she posted an update about her experience and how being able to be open about it "has been extremely healing."
She assured her fans that she will get through her sadness and loss and found it "extremely comforting" to know that she is not alone in going through this "difficult journey."
Hilaria also thanked her supporters for making her world "a brighter place" and felt humbled by their openness and compassion her supporters offer so freely.
During Hilaria's pregnancy with her youngest, Romeo born last year, she also suffered from health-related issues shortly before his birth.
Happy to have welcomed their fourth child to the family in May, Hilaria posted an update on her health along with a picture of the adorable newborn.
Please fill in your e-mail so we can share with you our top stories!