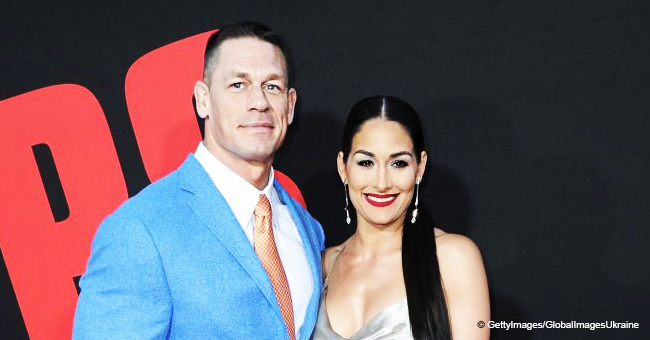 Nikki Bella Breaks Silence on Ex-Boyfriend John Cena's Potential New Relationship
Seeing a person you used to love with someone else is always heart-wrenching and, naturally, it may not have been easy for Nikki Bella to see her ex-fiancé John Cena with his new love interest. She shared her experience during the recent episode of her podcast "The Bellas Podcast."
The 35-year-old revealed during her podcast that she wasn't unaware of her ex seeing other women and shared how John made her an "amazing person."
"He's one of the people, besides you, Brie, who's made me an amazing person. But because of how sad and how much I hurt him when I saw the big smile on his face, I felt happy for him. I am very happy for him. As long as John is happy, I'm happy."
It's good to see that Bella did not take it as badly as one would expect her to. No "knots-in-the-tummy" for her.
She explained how she and John had talked about his new relationship beforehand to keep things simple.
"He and I had talked about it. That's the other thing. It's like, maybe that's why it didn't hurt me," she revealed. "I think I was just really curious to see who he was going on dinner dates with, which, you know, they'll never be like ours. Just kidding!"
Recalling how they parted ways, Bella said their relationship was judged "hard" and people only saw them together as reality stars in love.
"That's the thing about love. I think when you're on a reality show and you put your love out there, we get judged on it so hard and people only see us together. I have to see why I wasn't happy and him, the same. Sometimes you learn that way and that's how people get back together but you grow that way."
Bella obviously cares about John and said she will "rack attack" his new girlfriend Shay Shariatzadeh if she breaks his heart.
However, despite the breakup, Bella hinted at the possibility of a rekindled romance with John in the future.
"John is an amazing man and our timing wasn't right," she said. "Who knows, can timing be right for us in the future? Maybe, maybe not. Are we meant for other people? Maybe."
Previously, Bella admitted it would not be easy for her to see John with someone new, saying it would "kill her" to see him with another woman.
John and Bella split after six years of togetherness in April 2018. They had been together since 2012.
Please fill in your e-mail so we can share with you our top stories!