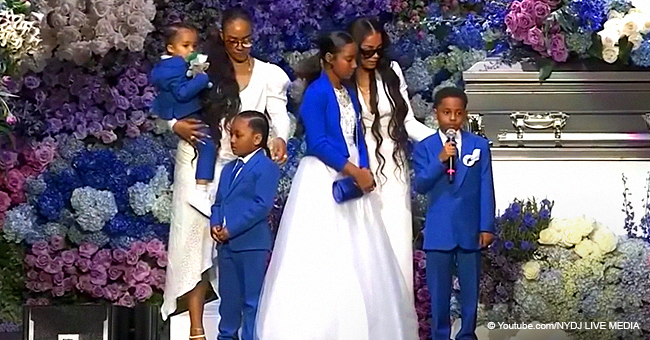 Lauren London Brings Kids Onstage to Pay Tribute to Nipsey Hussle at His Memorial Service (Video)
Nipsey Hussle's memorial service took place yesterday, April 11 and his grieving girlfriend Lauren London brought their kids onstage to pay tribute to the slain rapper. One of the kids recalled a recent encounter with Hussle.
The Staples Center in Hussle's hometown of Los Angeles was filled with loved ones paying their last respects to the rapper and among them were his children, both biological and otherwise.
A VISIT FROM HUSSLE
London, 34, came up on stage with her and Hussle's two-year-old son Kross, her son from a previous relationship, Cameron Carter, the rapper's daughter with an ex, Emani, and his nephew, Khalil Kimble.
Taking the mic first, Cameron (who London shares with rapper Lil Wayne), described a dream he had about Hussle (birth name Ermias Asghedom) just two days after the "Victory Lap" rapper was shot to death.
"On the night of April 2nd, I had a dream. I was in paradise, and I was playing in the ocean water when Ermias popped up right behind me," the little boy narrated. "He said 'What's up Killa!' cos that's my nickname to him."
PRESERVING HIS LEGACY
Cameron continued:
"I turned around and I yelled his name and I gave him a hug. Shortly, he was gone but it was still cool I guess. I told my mom about the dream and after I told her, I was thinking about it. And I realized that Ermias told me what heaven was like. He told me it was paradise."
Cameron then asked the thousands of fans and well-wishers in the arena to yell "Respect" as Hussle used to do every morning when he was alive.
NERVOUS KIDS & A MOTHER'S REGRET
Hussle's daughter, Emani, was too nervous to say anything and so was his nephew Khalil. Two-year-old Kross, oblivious of the day's significance, took the mic but only uttered some incoherent baby talk while smiling. It was sweet and heartbreaking to watch at the same time.
London, who urged the crowd to "give the kids some love" because they're a little nervous, also confessed during an emotional tribute that her pain is for her "two-year-old that probably won't remember how much his dad loved him."
A LOVER'S PAIN
Also paying tribute to the man she dated for nearly six years, the actress described him as "a gentle father, a patient leader, [and] a divine light."
"His soul was majestic. He was the strongest man that I ever knew," London added, after confessing that she had "never felt this type of pain before."
FIGHTING FOR JUSTICE
Hussle died 35 minutes after getting shot multiple times outside his south LA clothing store "The Marathon" on Sunday, March 31. He was 33.
29-year-old Eric Holder has been arrested as a suspect in the shooting and, according to the LAPD, has been charged with one count of murder, two counts of attempted murder and one count of possession of a firearm by a felon.
Holder, an aspiring rapper, could face a maximum sentence of life in state prison if convicted.
Please fill in your e-mail so we can share with you our top stories!