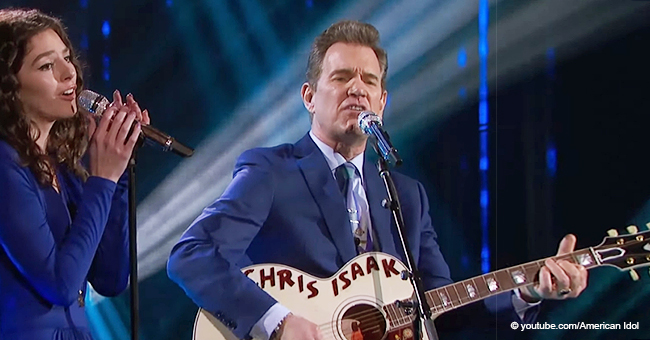 Chris Isaak Looks Age-Defying at 62 as He Stuns the Audience with His Voice on 'American Idol'
Evelyn Cormier was "wicked excited" about performing with the "Baby Did A Bad, Bad Thing" crooner.
She gushed, "Oh my goodness, okay, I'm singing with Chris Isaak. Yeah like, he's amazing, he's my dream duet."
"Excited is like an understatement. This is more like, I just need a moment," added the 19-year-old.
Upon meeting Isaak, she said, "I'm like wicked excited," which amused the 62-year-old Grammy nominee and actor.
He replied with, "Wicked excited … that was good!"
And what a wicked awesome American Idol performance it was by Isaak and Cormier who gave a soulful rendition of none other than Isaak's "Wicked Game, first released in 1989.
Isaak opened with his distinct and haunting voice, "World was on fire, no one can save me but you," which immediately had the audience applauding.
Cormier didn't disappoint with her own soulful rendition of the iconic lyrics, "And I never dreamed that I'd meet somebody like you," which received equal cheerful acclaim from the audience.
American Idol judges Luke Bryan, Lionel Richie, and Katy Perry were obviously impressed with Cormier, offering praises after their performance.
Bryan began by saying, "Evelyn, I tell you what, it's like I've got a front row seat to a really special moment."
Richie said, "Chris is a stylist. You don't know how difficult it is to stand on stage and sing with a person who has such an identifiable voice, and you're singing his song. Oh my God."
He added, "What makes you unique is that you're also a stylist. So when he stopped singing and when you started singing you have that identifiable voice that we know that was you, and the two of you together were a great, great complement. I applaud you."
Perry also gave her praises, "Evelyn it was so sophisticated and sultry, and intimate, and really embodying the feeling and emotion of that song. I mean the way that you presented it, and the way that you guys kind of locked while you were singing it was just so beautiful I believed every word that you were singing. I mean it's just an "it" factor that you can't learn, or buy ... you just got it."
Isaak says "Wicked Game" is a tale of obsessive love, inspired by a late-night event. He shared, "This one I wrote really late at night and it was written in a short time because I remember that a girl had called me and said, 'I wanna come over and talk to you,' and 'talk was a euphemism. And she said, 'I want to come over and talk to you until you're no longer able to stand up.' And I said, 'Okay, you're coming over. And I wrote 'Wicked Game:' "world's on fire and no one can save me but you." He said that the song came so effortlessly that he had finished writing it by the time she came over. He added, "I think she was probably upset because I was more excited about the song. (Laughing) I was like, 'Yes, you're gorgeous, baby. But listen to this song!"
Please fill in your e-mail so we can share with you our top stories!