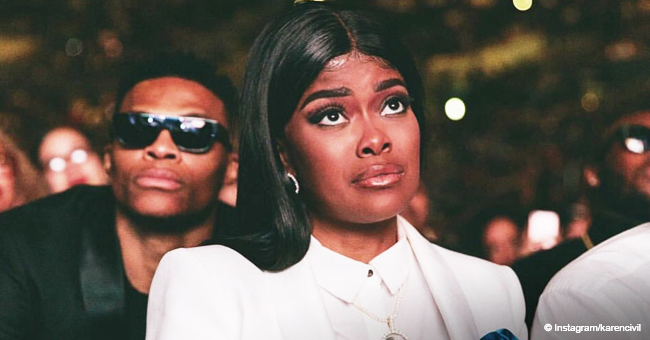 Karen Civil Shuts down Reggie Bush Fund for Nipsey Hussle's Kids, Claims He Was Asked Not to Do It
Karen Civil has asked former NFL star Reggie Bush to shut down the fund started for Nipsey Hussle's children.
Former NFL star Reggie Bush has seen his efforts to start a fund for the late Nipsey Hussle's children rebuffed by the rapper's business partner, Karen CIvil.
Bush who had recently announced that he had started the "Nipsey Legacy Fund" to accept donations for the two children of the late rapper was asked by Karen Civil to take down his appeal.
REGGIE BUSH STARTED A "GO FUNDME" FOR NIPSEY'S CHILDREN
The player, who was profoundly shocked by Nipsey's murder, started a Go FundMe initiative to create a trust for the rapper's children and made a donation of $10,000.
He then appealed to his friends and followers to help raise another $90,000 for a total of $100,000.
FAMILY REFUSED PERMISSION
According to Civil, Bush had approached Nipsey's family with the idea and had been turned down - but he set up the Go FundMe page anyway. He was then asked to remove it, which he did - but left the appeal post active on Twitter.
The rapper is survived by two children: daughter Emani, 7, whom he shared with an ex-girlfriend, and a two-year-old son, Kross
KAREN CIVIL BLASTS REGGIE BUSH
Civil, acting on behalf of Nipsey's family commented on Bush's tweet:
"Please remove this tweet as this was privately asked of you already. The family nor Lauren requested this and you did it anyway."
Bush quickly responded saying he was doing it out of the kindness of his heart whether he was asked to or not.
NIPSEY HUSSLE'S FAMILY IS GRIEVING
Civil went on to explain that although she understood that Bush's intentions were good, his timing was off:
"I understand you're motivated and want to help, but there are other ways. His family already asked you NOT to do this. People are literally grieving over a husband, father, brother, uncle, friend and someone who meant so much too so many people. This is not the time for this."
Nipsey was gunned down on March 31, 2019, in South LA by a purported gang member, a day before he was scheduled to meet LAPD high-ranking officials to discuss ending violence in the neighborhood.
The rapper is survived by two children: daughter Emani, 7, whom he shared with an ex-girlfriend; and a two-year-old son, Kross, from his relationship to long-time girlfriend Lauren London.
KAREN CIVIL SPOKE AT STAPLES CENTER
Karen Civil rose to read a touching letter sent by former President Barack Obama at Nipsey Hussle's memorial at Staples Center in Los Angeles.
20,000 mourners listened in silence as Civil choked over Obama's tribute to Hussle.
Obama admitted that he had never met Hussle, but that he knew his music through his daughters, Malia and Sasha.
The former President wrote admiringly of Hussle's faith in violence-ravaged Crenshaw, and praised Hussle's determination to invest and help his community by building a skills training center, and a coworking space.
On April 12, the Los Angeles City Council honored Nipsey Hussle contribution to his community by naming the Crenshaw Boulevard/Slauson Avenue intersection "Nipsey Hussle Square."
Please fill in your e-mail so we can share with you our top stories!