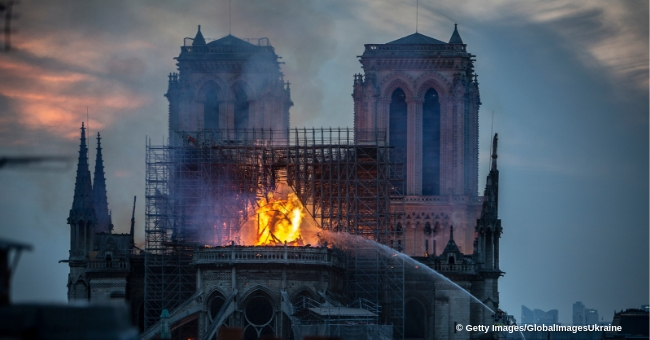 Notre Dame Fire Under Control Hours after Spire Collapsed
Hours after a massive blaze engulfed the historic Notre Dame Cathedral in Paris, city officials confirmed that the structure of the building had been saved.
It was reported earlier today that the roof collapsed and destroyed a spire. The blaze then spread to one of the building's two rectangular towers.
As reported by CNN, the spire was consumed with flames and leaned to one side. It fell onto the burning roof as onlookers watched in horror.
Residents in the area were evacuated as a safety precaution, and French President Emmanuel Macron gave a press conference on Monday night in Paris, after the blaze was extinguished.
He thanked the hundreds of firefighters who risked their lives and showed "extreme courage and professionalism" to keep the historic cathedral from burning to the ground.
He added that despite the devasting event, it is France's destiny to rebuild the cathedral and to do so with pride. Macron explained:
"So with pride, I tell you tonight that we will rebuild this cathedral, all together. It's part of the fate, the destiny of France, and our common project over the coming years. And I am committed to it."
Paris Mayor Anne Hidalgo confirmed on Twitter that major art pieces and sacred items from Notre Dame, such as the Crown of Thorns and the Tunic of Saint Louis, were saved from the fire.
Please fill in your e-mail so we can share with you our top stories!