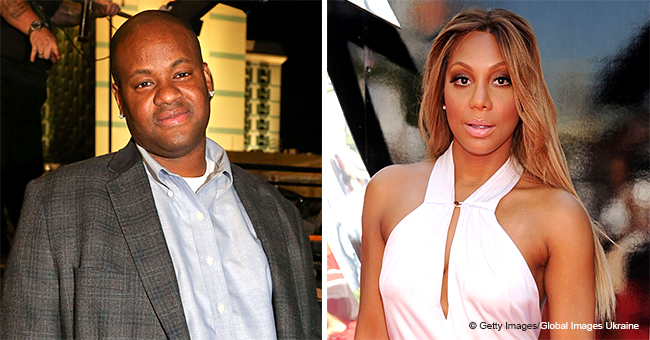 Tamar Braxton Says Estranged Husband Vince Herbert Has a New Woman
Tamar Braxton believes her estranged husband Vince Herbert has moved on to a new woman. The reality star/singer also revealed the source of her information to her siblings in a recent episode of their show.
While fans are mostly up to date about the developments in Tamar's dating life, thanks to her frequent gushing about her "fine" man, Vince has stayed away from the spotlight.
On last Thursday's episode of "Braxton Family Values," Tamar, 42, recounted a cringeworthy chance meeting with Vince, who she's in the process of divorcing. The "Love & War" singer related the encounter to her sisters Trina and Towanda.
"Has he moved on?" Trina asked about Vince and Tamar replied:
"I believe he has. Logan says he got a wife."
DIVORCE DRAMA
Logan is the estranged couple's five-year-old son and Tamar seeks to get primary custody in her divorce proceedings with Vince. Following infidelity and domestic violence allegations against Vince, Tamar finally filed for divorce in 2017 after nine years of marriage.
Last August, the court warned the "Celebrity Big Brother" winner that her divorce filing might be dismissed due to inactivity on her part. Tamar had reportedly not served Vince with the divorce papers and could stay married to him if she still failed to.
By September, however, Tamar had served the record executive with the necessary papers, and it was he who failed to show up in court. Tamar then pleaded with the judge to sign off on the divorce despite Vince's unresponsiveness.
NEW MAN FOR TAMAR
At the time, the "All The Way Home" singer was already dating her new man, David Adefeso, a Nigerian who is the CEO of a Los Angeles-based financial services firm.
Opening up about him on the "Wendy Williams Show" in September, Tamar described being overwhelmed by how "fine" David is.
"He's so fine! I can't take it sometimes. It's like a whole snack – a Lunchable!" she said.
KEEPING THINGS PRIVATE
For so long, Tamar hid her new beau's identity, offering fans only glimpses of some parts of his body and making sure to obscure his face each time.
Earlier this month, however, the lovebirds made their red carpet debut for the "Braxton Family Values" season 6 premiere, and David also features in the WeTV reality series.
'HE'S A GREAT GUY'
Many social media users expressed surprise at David's look as they claimed he wasn't as physically attractive as Tamar made him out to be.
It doesn't look like internet chatter will stop Tamar from gushing over David to the world, though, and that may have something to do with what she told PEOPLE a while back.
"He is really kinda hard to not love," Tamar claimed. "He's a great guy, comes from a great family, has great morals, loves my son to pieces and we get along great."
Please fill in your e-mail so we can share with you our top stories!